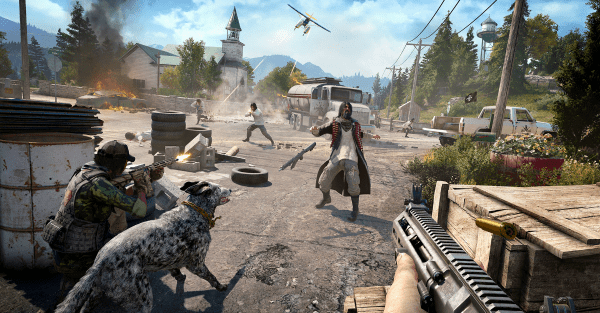 far-cry.ubisoft.com
Far Cry 5 is already set to be one of the most highly-anticipated titles of the next year for Ubisoft, not the least because of its dedication to a deeper cooperative experience than previously implemented in the franchise. As we already know, friends teaming up together in the game will not be restricted to brief side missions or free roam. Instead, co-op in Far Cry 5 will cover the entire story – and we just got our first look at it. While the following trailer is rather brief, it does give players an idea of what to expect in the upcoming open world adventure game. Check it out:
The trailer, amusingly set to The Turtles' hit song "So Happy Together," certainly conveys a specific tone. Despite the frequently dramatic, always violent backdrop to previous media releases for Far Cry 5, there's a definite feeling of entertaining chaos to the game's co-op mode. It's clear the sheer amount of available activities for players to enjoy in "Friends for Hire" is the main selling point – and for good reason. The above trailer features fishing, plane rides, and, of course, the traditional brutal shoot-outs and violence so closely associated with the Far Cry franchise.
RELATED: Far Cry 5's cooperative mode isn't quite what was expected
Other, previously confirmed details have revealed that Far Cry 5's cooperative mode begins immediately after the tutorial and proceeds until the end of the game. That said, only one player makes progress on their campaign story, meaning that the invited player must earn achievements and other unlocks on their own time. Players in Friends for Hire share ammo, health packs, and even bullets via the optional friendly fire mode, which can be toggled off in the game's options.
While the game utilizes a "drop-in" mechanic, those joining another player's campaign have access to a fully customizable character of their own creation. Unlike with the story campaign, any progress made as a Friend for Hire is kept; all money, perks, guns, and otherwise obtainable loot is saved to the player's own game.
Far Cry 5 launches for the PlayStation 4, Xbox One, and PC on February 27, 2018 at $59.99. For more information, try browsing the official Far Cry section of Ubisoft's website, where a wealth of news, trailers, and media releases are available.