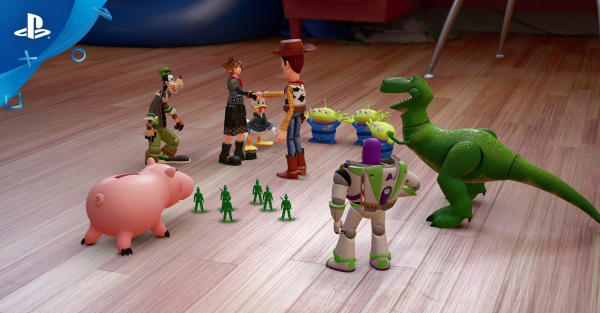 PlayStation/YouTube
Disney?s D23 exposition showed off a lot of neat footage this year, and while there?s no denying that the upcoming Star Wars: The Last Jedi and Avengers: Infinity War pretty much stole the show with a couple of limited teasers, there was definitely a lot more to be excited about. A brief announcement heralded the arrival of a new director to Toy Story 4?s development, though the real news about everyone?s favorite toys came through a different medium.
In a gameplay trailer for Kingdom Hearts 3, Square Enix has unveiled the Toy Story setting and characters as the newest inclusion for the game. Check it out:
Although this isn?t the first time we?ve seen gameplay for Kingdom Hearts 3, it?s always a joy to observe. Sora?s movements and attacks are fluid and pretty, with numerous particle effects delivering that added oomph to his strikes. This is only emphasized by the assistance of his companions Goofy and Donald and later, the added aid of Buzz and Woody.
There?s more than just the combat to be surprised by, too. Once Sora and his friends escape the confines of Andy?s room, they?re in what-appears-to-be an open world setting. There?s also mechanized toy combat, beautiful music, and several appearances from a variety of iconic Toy Story characters.
Kingdom Hearts 3 will launch on the PlayStation 4 and Xbox One in 2018, well over a decade after the game?s first announcement in 2013. For future updates, follow the official Twitter account for the developers at Square Enix, or visit the game?s website.