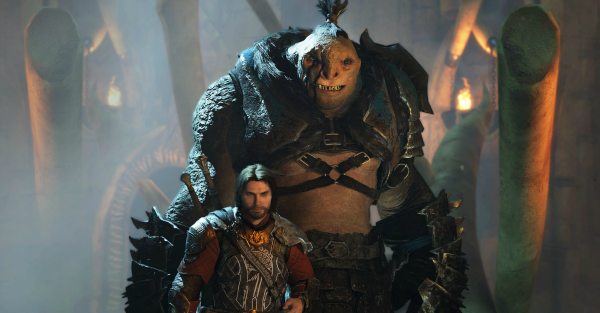 shadowofwar.com
Middle-earth: Shadow of War has been out for just over two weeks now, and while early controversy over the game's loot box mechanic might've dissuaded a fair few from ever making the purchase, the game nevertheless enjoyed high scores from the majority of reviewers. Critics have joined together in praising the consistently entertaining Nemesis System, while also speaking favorably of new, innovative mechanics like fortress assaults and dynamic weather.
Unwilling to let its title fall out of the news cycle, Monolith today released a trailer for Shadow of War's expansion pass. Check it out:
The pass will provide access to all four of the upcoming DLC packs as they release. The first of these is the Slaughter Tribe, a "gruesome, bloody, and rabid" group most characterized by their tendency to dress their fortresses in the bodily fluids and internal organs of their victims. The Slaughter Tribe is unique in that they are capable of ambushing Talion at any point, regardless of circumstances.
Then there's the Outlaw Tribe, which the trailer describes as an organized band of orcs banished from the rest of their race – an impressive feat, really, given the violent, lawless nature of orc society. Both the Outlaw and Slaughter Tribes will be fully integrated within the Nemesis System, allowing the player to assault their fortresses, hunt down their Legendary Orcs, and acquire their most valuable of loot.
The third DLC pack differs from the first two as a story expansion. The Blade of Galadriel allows players to play as the elf Eltariel as she harnesses the Light of Galadriel in order to take down her enemies (and match with Talion's equally-powerful abilities). Included in the pack are eight unique Legendary Orcs to be defeated and recruited into the Nemesis System, as well as an unlockable skin for the campaign.
The fourth and final release, Desolation of Mordor, will provide a similar experience to the previous DLC in allowing players to take on the role of the soldier, Baranor, who they can then play as in the new, desert-region of Lithlad. The Desolation of Mordor provides access to a Dwarven Hunter capable of crafting new gear and another story campaign, in which Baranor must recruit an army of humans to fight off the forces of Mordor.
The Middle-earth: Shadow of War Expansion Pass is available for $39.99 for the PlayStation 4, Xbox One, and PC. The first of these DLC packs, the Slaughter Tribe Nemesis Expansion, arrives sometime this November, while the others launch in December, February, and May, respectively. For more information, feel free to follow the developers over Twitter @monolithdev, or check out the official Shadow of War website.