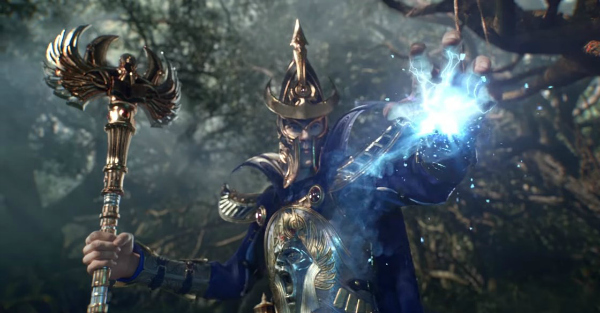 Total War/YouTube
It ain't easy being green – or pointy-eared, furry, or even just a normal human for that matter. Not in the world of the Warhammer fantasy universe, anyway. In a setting so amoral and deadly that it inspired the entire genre of "grimdark" story-telling, there are no true heroes or villains; each faction has its dark side, its justifications for horrific acts of depravity and cruelty, and everyone's in for a bad time.
Yet, somehow the High Elves have done all right for themselves. Characterized by their egotistical, proud nature and towering, prosperous cities, the residents of Ulthuan are expected to deliver an entirely different experience from the norm when Total War: Warhammer 2 provides players access to the faction. The latest trailer for the High Elves released just a few hours ago, and details one of the race's strongest units: the Moon Dragon. Check it out:
The trailer provides a brief introduction to the Moon Dragon's description and its place in the lore, though the more interesting part for us at least comes when it begins combat with its Dark Elf counterpart. The destructive creature is beautifully animated and textured, with a distinct design that sets itself apart from the game's many other terrific beasts. You can already tell it'll be a thrill to command when we finally reach Warhammer 2's battlefield.
This is actually the latest in a series of trailers detailing the High Elves; an earlier video released last Friday gave us a brief look at the "Eagle Gates" of Ulthuan, which were host to a violent confrontation between the city's residents and a Dark Elf army. The day before that, Creative Assembly (CA) uploaded another trailer this time showcasing the overall campaign for the faction. The content, which is quite a bit lengthier and more informative, is available below:
While players had initially shown concern over the lack of attention given to the High Elves over the game's other factions, it seems that CA had simply been holding the best for last. The High Elves have numerous unique campaign mechanics that allow them to influence the goings-on of the rest of the world without directly involving themselves. The Intrigue at Court mechanic, for example, allows them to ignite conflict between previously ambivalent or even friendly races, while their ability to spectate trade partners and coastal territory (with the right technology) gives them added competitiveness through observation.
For more information about Total War: Warhammer 2, you can visit the game's official YouTube channel for access to a long line of media releases and trailers. Alternatively, follow the developers at Creative Assembly over Twitter or on their blog to receive instant updates about any future news and developments.