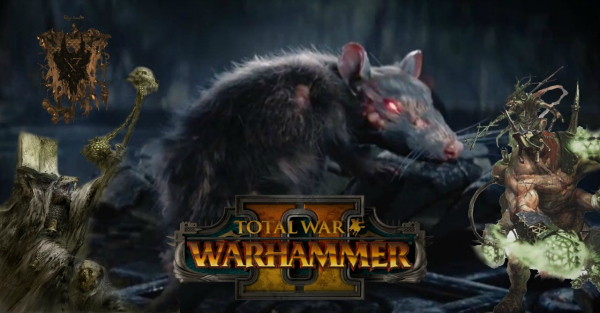 thecreativeassembly/YouTube
If not for the constant tongue-in-cheek hints towards the existence of Skaven in Total War: Warhammer 2, you could call the fourth faction one of the worst kept secrets in the history of gaming. After Warhammer 2?s initial trailer ended with a shot of a small, scurrying rat, the developers over at Creative Assembly have turned Skaven into more of an inside joke ? a parody of the days when industry leaks were the exception rather than the norm, leaving the only question as to when subterranean rat people would be confirmed, rather than ?if.?
Today, finally, after months of vague hints and endless speculation, the fourth faction of Total War: Warhammer 2 has been revealed. Take a look at the in-engine trailer for the Skaven race below:
There?s definitely a horror aspect to this trailer that wasn?t present in those for previously-revealed factions. The constant flashing shots of dimly-lit, gruesome visages combined with the uncertain faces of Dark Elves and Lizardmen bestows an unsettling feeling of dread upon the viewer. The mood is certainly in keeping with the lore of Skaven in the Warhammer universe, where even mentioning the possibility of monstrous rats lurking beneath the ground would be enough to get a man executed for heresy.
Then, of course, there?s the actual battle, which showcases a variety of horrific-looking units from the Doom Wheel to some kind of green flamethrower to Plague Monks. The depiction of the Hell Pit Abomination near the end alone has sent much of the Total War and Warhammer communities into a frenzy of excitement for the Skaven faction. Everything pictured comes together to show off a seemingly diverse roster of terrifying rat people that, hopefully, will be a joy to experience in Warhammer 2?s campaign.
Speaking of the campaign, speculation of the Skaven?s actual faction mechanics has run rampant after an image was released earlier this week showcasing Warhammer 2?s setting. In particular, the lack of the then-unrevealed Skaven?s cities was substituted by a series of ruin icons. Some have suggested that this in reference to the Skaven?s tendency to settle in abandoned (or razed) territories, from which they can then launch surprise attacks.
Until future details are revealed, however, we can only really guess at how the Skaven will behave within the context of Warhammer 2. You can follow the developers on their Twitter account to receive immediate news about the Skaven or about the Total War series in general, or visit Creative Assembly?s official website for access to developer videos, community forums, and more.