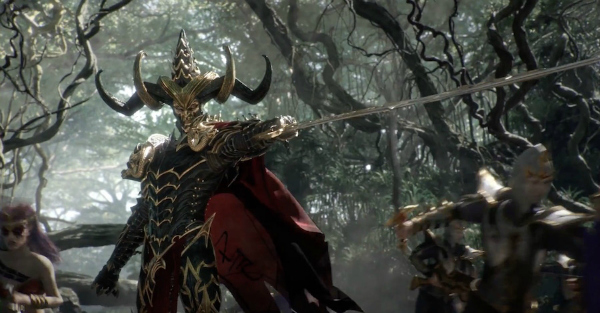 forums.totalwar.com
In an effort to draw out the reveal of Total War: Warhammer 2's content, the developers over at Creative Assembly have been slowly releasing trailers on each of the game's factions. Usually an in-engine trailer reveals the race's name, leaders, objectives, and general theme first before a gameplay video is made available for viewing a week or so later. It's certainly kept the game in the news lately, and is at least part of the reason why the game has been showing up in the headlines so frequently.
That and, well, Warhammer 2 does look like a pretty enjoyable sequel; CA has definitely learned a lot from the first game and, from the look of their constant media releases, the studio has been quick to implement any changes. The latest release, which was uploaded on CA's YouTube channel last night, shows off the infamous Dark Elves of Lustria. Take a look:
The poor High Elves have really become the punching bag of Warhammer 2 media, and for good reason. In a world of fantasy races and alien, exotic beings all at war, it pays to have at least one human-like faction for people to relate to. It works, too; seeing the elves slaughtered as they try to flee their fallen city incites a genuine feeling of sympathy for the hapless warriors, all arrogance aside.
It gets even worse when Malekith arrives with his mother-in-tow. The Dark Elf-in-Chief gives off a distinct Darth Vader vibe in his murderous stride as he effortlessly defeats his enemies in increasingly dramatic ways, building up to the final reveal of the monstrous Hydra. His voice is equally sinister, carrying with the character's token animosity and cruelty for the High Elves.
Now, all that's left are the Skaven…
On a semi-related note, the final free DLC for the first Total War: Warhammer is evidently to be revealed soon, according to a screenshot on the game's forums. So, keep an ear out, follow the Creative Assembly team on their various social media accounts, and, as always, stay tuned for future updates.