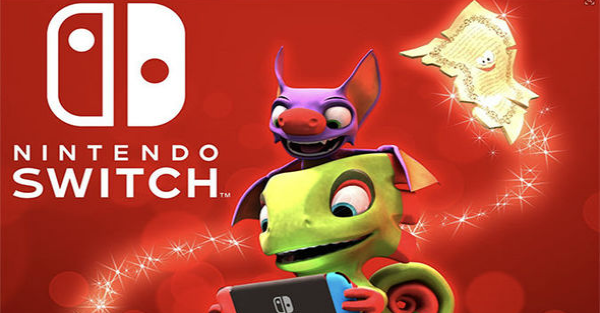 PlaytonicGames/Twitter
Playtonic?s whimsical platformer Yooka-Laylee is finally coming to the one console with which the term ?whimsy? is so closely associated. According to an announcement over the studio?s Twitter account, the platforming ?collect-a-thon? title is due for the Nintendo Switch this December.
Yooka-Laylee initially released for the PlayStation 4, Xbox One, and PC back in April. A simultaneous launch was also planned for the Wii U only to be delayed and eventually canceled by Platonic due to ?unforeseen technical issues.? In the same breath however, the studio would confirm the eventual release over to the then-recent Switch.
Features arriving on the Nintendo Switch version include Yooka-Laylee?s first major update, which introduced the ability to skip through dialogue faster, completely bypass cutscenes, and an optional camera mode optimized for more player control.
The Switch version also brings with it single-JoyCon functionality across all multiplayer game modes, a new system for achievements, and the ability ?to take our collecting due on the go without the need for extravagant extension leads.? This is in addition, of course, to the standard technical optimizations coupled with every major patch.
Yooka-Laylee?s launch was heralded by a wave of excitement unusual for any new studio in the video game industry. The reason for this stemmed from the fact that developers were not actually new at all, and were in fact veterans of Rare who had moved on to form their own studio in 2014. Rare?s development of the beloved classic Banjo-Kazooie is what led many to view the upcoming Yooka-Laylee as the former?s spiritual successor ? a belief that eventually aided Playtonic in earning over 2 million dollars via Kickstarter.
Despite the outstanding support from the project?s donors, Yooka-Laylee received a rather mixed reception upon launch. Many criticized the game?s tendency to repeatedly reuse assets across multiple levels in a manner that seemed out-of-place, while reviewers lamented both Yooka-Laylee?s poor controls and awkward camera movement.
Of these issues, however, many would be addressed in the aforementioned first update, and while major design choices were simply out of the studio?s hands at that point, it?s quite possible that Yooka-Laylee?s subsequent patches succeeded in polishing the lackluster title into a positive sheen.
Yooka-Laylee will be available to pre-order on the Nintendo Switch on December 7, a week before its final release on the 14. For more information, check out the official announcement on Playtonic?s website.