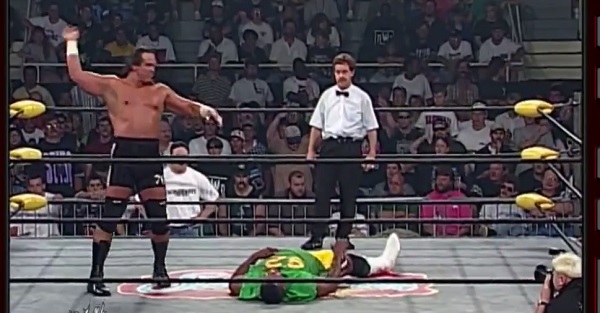 WWE.com
The great thing about late-1990s pro wrestling? You had badass characters like Sting, Stone Cold Steve Austin, the Rock, the NWO… etc.
The bad part? Some of the matches weren't exactly great… or good… or really even "just bad"; some were downright awful. This falls into that latter category.
20 years ago today WCW held the "Slamboree" pay-per-view, which featured a returning Ric Flair teaming with Roddy Piper and former Carolina Panther Kevin Greene in the main event against the New World Order (Kevin Nash, Scott Hall, X-Pac). It also featured one of the worst matches in modern history, as former Green Bay Packer legend Reggie White was in a singles match against another former NFL player: Steve "Mongo" McMichael.
Generally the rule of thumb in wrestling is that if you have a non-wrestler in a match, you pair them with someone that can make them look passable and you don't put them in there for too long. Pro wrestling isn't easy in front of thousands of fans, and you want an experienced hand in there making sure that things go as well as they can.
Well, WCW failed at that here, not only pairing White and McMichael together, but also having their match go on for over 15 minutes. As wrestling historian Dave Meltzer wrote in the Wrestling Observer at the time: "Whoever got the idea that these two could go 15:00 needs to be sent back to the sanitarium."
As expected, the match dragged, and since these guys weren't really pro wrestlers to begin with, the match was awful. But at least we got to see Reggie White do a dropkick out of it!
While McMichael was involved in WCW for several years after his NFL career, this was the only pro wrestling match of White's career. White had previously made an appearance during the WrestleMania XI show, where Lawrence Taylor had a match against Bam Bam Bigelow.