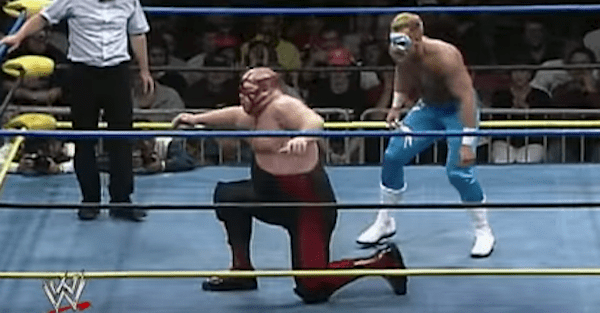 WWE/YouTube
After early diagnosis gave former WCW champion Vader only two years to live, he spoke to the Two Man Power Trip of Wrestling podcast to clear the air. In the interview, he noted if he's going to die, he plans to die in the ring, in front of 10,000 people.
"I kind of wish I hadn't brought it up, and I am continuing to wrestle. Someone said, 'Aren't you afraid? Why would you get a booking (to wrestle) at this point when you've had this type of diagnosis?' I said, 'Brother, where would you rather die in a bed at home, or in the hospital, or would you rather die in front of 10,000 people having fun in the ring?"

"So, if it's true, if this doctor isn't just totally full of shit which, that's what I'm betting on, and I should say 'these doctors' at this point you know, that's my choice, and that's the way I decide to go out. If this thing's gonna happen, I'd rather be in a ring, anywhere, compared to sitting in a hospital room in a hospital bed, sitting there like some sheep getting ready to be slaughtered. It's not who I am, and it's not the way it's gonna happen with me."
"I really kind of regret tweeting it out. In other words when I got diagnosed and was told, "Leon, you have a bad heart and you have congestive heart failure and we feel your time is limited and you have maybe a couple of years left…two years or less to live". I remember getting very angry and said this has got to be bullshit because I don't feel bad and I remember getting extremely angry. Since that time and when I got the news I left the hospital and went right to the gym and rode the bike for a half hour. Hard. As hard as I could and when I got off the bike and got on the treadmill and walked for another 15 minutes pretty hard and I was exhausted but my heart felt fine so how can I do that if my heart is going to give out? The doctor in some of the ongoing appointments that I had with him explained to me that when you are tipping the scales at 400 and 420-25 pounds that a man that size and that heavy isn't supposed to be able to push himself in a cardiovascular endeavor no matter what it is much past 2 or 3 minutes."
The tweet Vader is referencing comes from back in early February:
As I enter my final days, proud of the Father Son Brother Football player Pro WrestlerThe Super Heavy Big Man Goat Im Grateful for the Time
Related: "Big Van Vader" once had his eye poked out during a match… and he kept working anyways
Vader, real name Leon White, still wrestled on occasion over the past few years.
However, the 61-year-old's health started to deteriorate last year after a bad roll-over car accident.
The fallout from that accident later led to a diagnosis of congestive heart failure, where Vader revealed that doctor said he only had two years left to live.
Vader was a former All-American offensive tackle at Colorado before heading into the pro-wrestling world.
In wrestling, "Big Van Vader" first made his name in Japan, where his initial victory over Japanese legend Antonio Inoki brought a legitimate riot from the crowd, solidifying Vader's status as a top contender for years to come.
In his career, Vader won both the IWGP Heavyweight Championship (Japan) and the WCW World Heavyweight Championship three times. Vader also wrestled with WWE in the late-90s, being involved in several high-profile feuds with Bret Hart and the Undertaker for the then WWF Championship.
https://www.youtube.com/watch?v=uSDu30qZU-8
Vader was named the Wrestler of the Year by the Wrestling Observer in 1993, and he was later one of the inaugural inductees into the Wrestling Observer Hall of Fame in 1996. Vader has yet to be inducted into the WWE Hall of Fame, making him one of the most significant wrestlers yet to receive that honor.