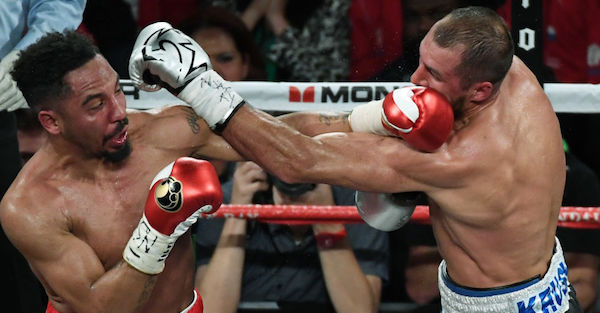 Ethan Miller/Getty Images
LAS VEGAS, NV - JUNE 17: Andre Ward (L) and Sergey Kovalev trade blows in the sixth round of their light heavyweight championship bout at the Mandalay Bay Events Center on June 17, 2017 in Las Vegas, Nevada. Ward retained his WBA/IBF/WBO titles with a TKO in the eighth round. (Photo by Ethan Miller/Getty Images)
Andre Ward took on Sergey Kovalev in a rematch Saturday night in Las Vegas, Nevada and the champion outlasted Kovalev to retain his titles.
Ward and Kovalev went eight rounds where Ward was declared the victor via TKO in what was a very competitive fight overall.
Ward moves to 32-0 in his career after the victory by the light-heavyweight champion. Although their first fight was seen as somewhat controversial, Fight 2 didn't have the same sort of ending or feel.
After taking down Kovalev again, Ward was asked about what was next in his career and he didn't shy away from the question.
Via USA Today:
"Asked what was next, Ward said, "Cruiserweight? Heavyweight? I dream big and everything is possible when you have God."

"Ward, 33, said he might look to try to win a title in his third weight class."
Ward is now 32-0 in his career.