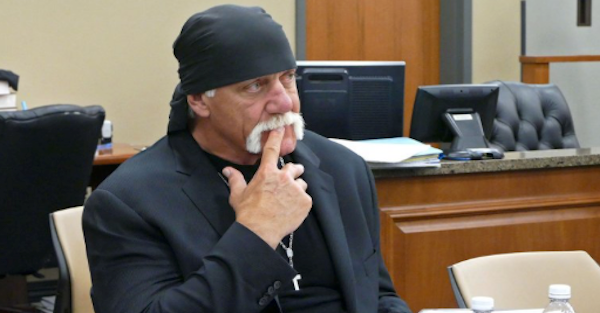 Related: Reported details of Hulk Hogan's alleged racist rant forced WWE to can him
---
Hulk Hogan won his lawsuit against Gawker back in March, taking home $115 million following the release of a sex tape. A secondary sex tape emerged before the trial, per The National Enquirer, that alleged Hogan used racist slurs, including the n-word.
Thanks to Death and Taxes Mag, alleged audio of Hogan has emerged. While it's a bit difficult to hear, it's just as bad as we imagined.
[soundcloud url="https://api.soundcloud.com/tracks/258941768″ params="color=ff5500&auto_play=false&hide_related=false&show_comments=true&show_user=true&show_reposts=false" width="100%" height="166″ iframe="true" /]
Death and Taxes Mag reportedly got this audio through a bit of a loophole, when the Florida 2nd District Court of Appeals unsealed confidential documents as Gawker attempted to get Hogan's racist comments into evidence:
"Death and Taxes obtained the unsealed audio recording of the sting operation from the FBI investigation (excerpt embedded below), which included Hogan and his personal attorney David Houston watching parts of the sex tapes together with ?sex tape broker? Keith Davidson."
Here's a transcript of the audio, per Complex:
Hogan: So it gets to the point where?I dunno if Brooke was f***ing the black guy?s son, or they?ve been hanging out. I caught them holding hands together on the tour. They were getting close to kind of [inaudible] the f***g [inaudible]. I?m not a double standard type of guy. I?m a racist to a point, y?know, f***ing n*****s, but then, when it comes to nice people and [redacted]

Clem: We all are that way.

Hogan: Yeah, cool, when it comes to nice people, you gotta?you can?t, you can?t say the?

[Two-second redaction]

Hogan: I don?t give a f**k if she [inaudible] [an eight foot tall?] basketball player.

Clem: [laughs]

Hogan: If we?re gonna f**k with n*****s, let?s get a rich one!

Clem: [laughs]
Hogan was fired from WWE following a release of the transcript.