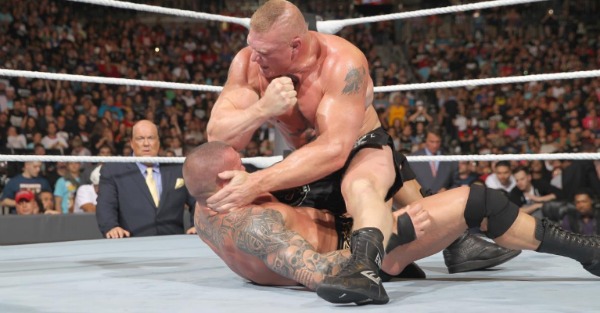 Twitter screen shot
WWE.com
Brock Lesnar's feud with Conor McGregor seems to have inspired him. Maybe too much.
Lesnar's been "fined" by the WWE for smashing Randy Orton's head open during their SummerSlam pay-per-view event Sunday. The match ended by way of TKO after Lesnar landed a series of vicious elbows to the top of Orton's head as he tried to cover up. The barrage, which was by all accounts murderous, caused a wound that spilled a significant amount of blood onto the canvas, and required 10 staples to close. He then F-5'd Shane McMahon for good measure.
RELATED: Brock Lesnar calls Conor McGregor a girlie man
According to WWE.com, the onslaught cost Lesnar the paltry sum of $500 (clearly a storyline to move forward a potential Shane McMahon-Lesnar rivalry.
Raw Commissioner Stephanie McMahon confirmed on Monday night that Lesnar would face repercussions for his vicious actions against The Viper at The Biggest Event of the Summer. The WWE Universe learned on Tuesday?s SmackDown Live Pre-Show that the $500 fine was set by Stephanie.
Now if we could only see Lesnar and McGregor in the ring, all would be well in the world.