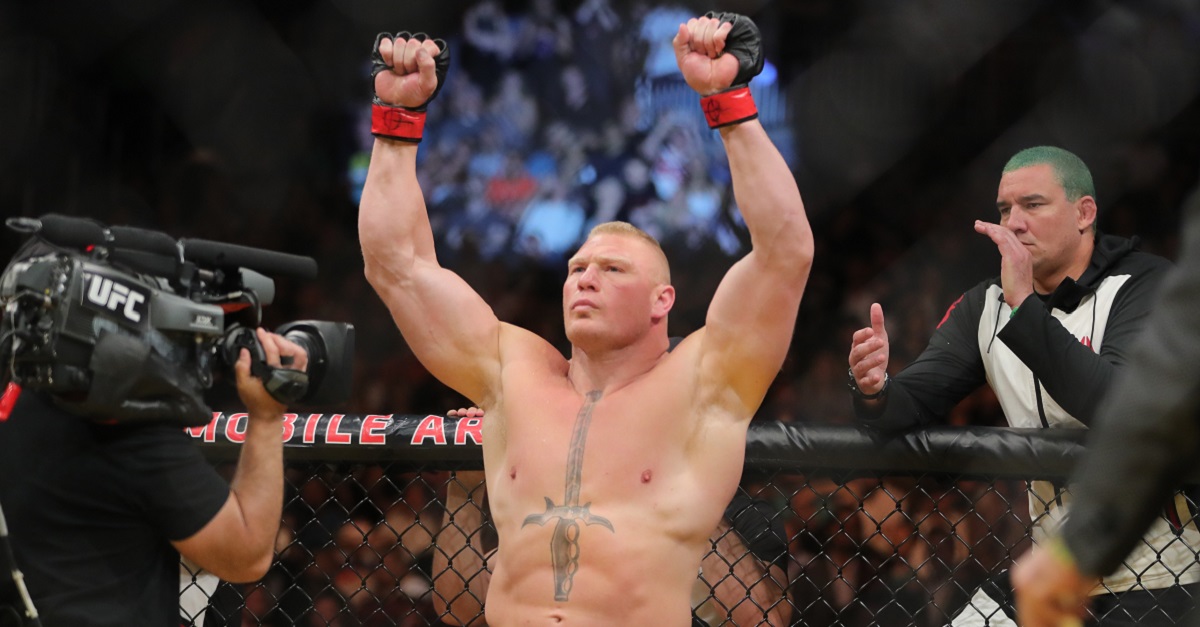 Rey Del Rio/Getty Images
LAS VEGAS, NV - JULY 9: Brock Lesnar before his fight against Mark Hunt during the UFC 200 event at T-Mobile Arena on July 9, 2016 in Las Vegas, Nevada. (Photo by Rey Del Rio/Getty Images)
WWE Universal Champion and former UFC Heavyweight Champion Brock Lesnar has reportedly gotten back in the USADA testing pool for UFC, according to Wrestling Observer Newsletter's Dave Meltzer.
According to Meltzer, speculation grew on Tuesday after rumors of Lesnar and real-life manager Paul Heyman attending the UFC offices during International Fight Week began to spread. There  were also rumors that he allegedly spoke about participating at the UFC event scheduled for November 4 at Madison Square Garden.
However, as it stands, Lesnar would be unable to participate as he is still serving a one-year suspension for two failed drug tests for Hydroxy-Clomihpene.
Lesnar was suspended after a July 9th test turned out to be positive and his one-year suspension was frozen in mid-February, which means it still has five months remaining and the former champion won't be able to compete again until mid-December.
Lesnar announced his retirement after testing positive, which also meant he was out of the USADA testing pool.
According to Meltzer, the rumors of Lesnar and Heyman visiting UFC's offices were denied by sources, however, those within UFC did confirm interest in Lesnar making a return to the octagon.
Lesnar currently holds a 5-3 career MMA record after his July 9th victory over Mark Hunt was overturned into a "no contest" due to his positive drug test.
Lesnar is currently scheduled to defend his Universal Championship at SummerSlam against an opponent to be determined later.