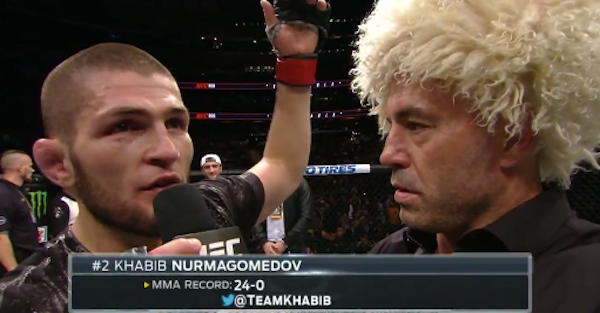 Clippit screenshot
If Conor McGregor is the baddest dude in the UFC's lightweight division, Khabib Nurmagomedov is 1B.
Nurmagomedov is unbeaten in his UFC career, running a 24-0 record, with his latest domination of Michael Johnson at UFC 205 from Madison Square Garden.
After the fight, Nurmagomedov called out the "chicken" Conor McGregor, calling him the easiest competition in the lightweight division.
Paired with an iron jaw and flawless execution in the Octagon, Nurmagomedov would be a nightmare matchup for McGregor.
We'll see if the two follow up on this brief dustup after the UFC 205 weighins on Friday:
McGregor will take on Eddie Alvarez for the lightweight title later in the night.