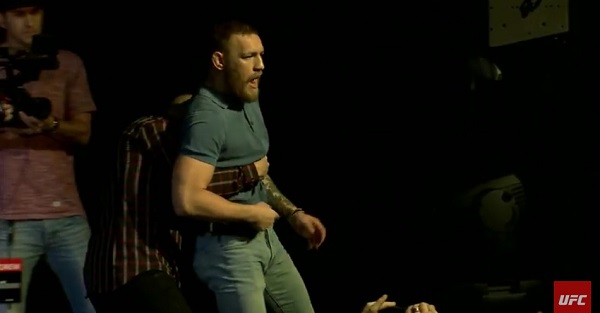 UFC/YouTube
Conor McGregor and Nate Diaz may have their official fight at UFC 202, but they definitely didn't feel like waiting at all during their pre-fight press conference on Wednesday.
Check about 20 minutes into the UFC's above video for the visual of what happened. Diaz left the podium while Conor was in the middle of the question, reportedly at the request of his brother, Nick. As Diaz was leaving, McGregor took his opportunity to insult his opponent, while Diaz responded in kind with raised middle fingers.
Eventually, Nate threw a bottle into the affair, sparking McGregor to respond by throwing water bottles and cans of Monster energy drink back into the crowd. McGregor was restrained while Diaz was escorted out with security.
As you can imagine, UFC president Dana White wasn't happy and the presser subsequently ended.
RELATED: UFC bantamweight contender takes aim at Ronda Rousey by body shaming her
While this may help build some press for their upcoming fight, you can tell that White was legitimately upset with both fighters here. If one of those bottles hit a fan or media member, there is a good chance someone would want their share of the purse by filing a law suit.
Save it for Saturday, boys. No need for any tricky business going forward.