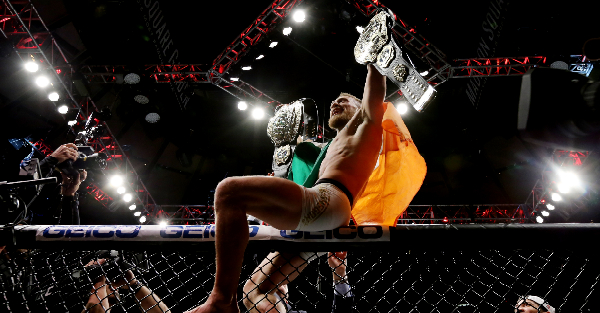 Michael Reaves/Getty Images
NEW YORK, NY - NOVEMBER 12: Conor McGregor of Ireland celebrates his KO victory over Eddie Alvarez of the United States in their lightweight championship bout during the UFC 205 event at Madison Square Garden on November 12, 2016 in New York City. (Photo by Michael Reaves/Getty Images )
Conor McGregor shared with the media after his UFC 205 win that he will be a father and is expecting a child sometime around May.
Related: Conor McGregor makes UFC history in TKO victory over Eddie Alvarez
McGregor then noted he's not looking to be a "famous family" and is expecting to take some time after the birth of his child to figure some things out.
The featherweight and lightweight champion then discussed the need for UFC to "talk" to him if they want him back. He discussed possibly wanting some shares in the company, noting that he deserves to be "set for life."
McGregor has fought three times this year after beating Jose Aldo in December of last year (a submission loss to Nate Diaz, a decision victory over Nate Diaz and a knockout victory over Eddie Alvarez).