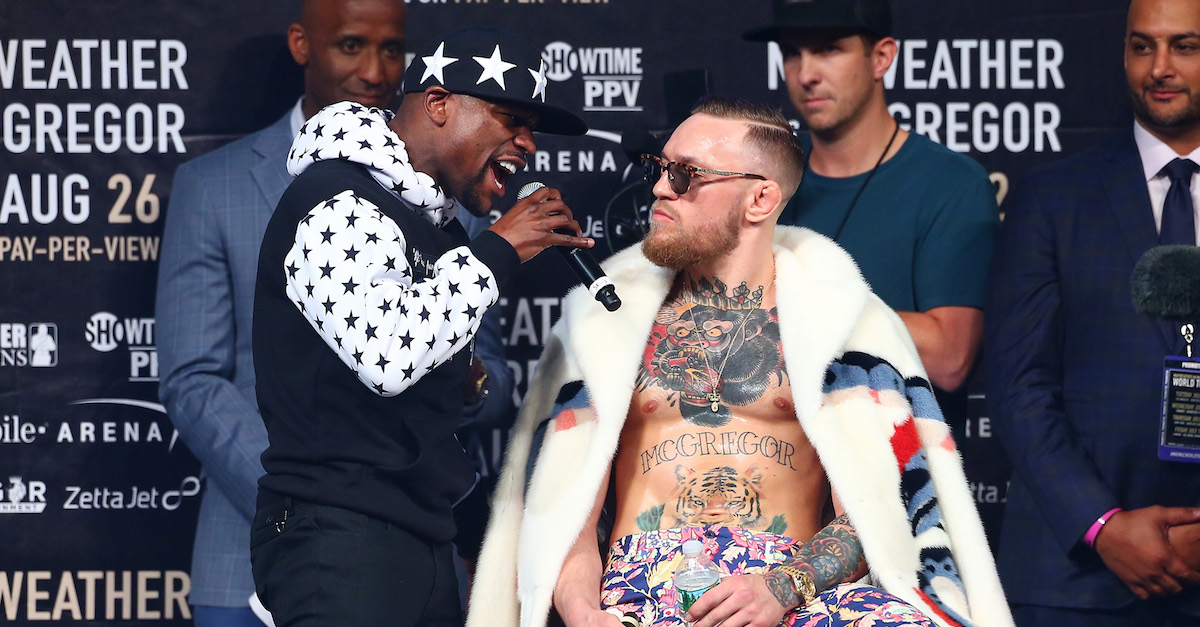 Mike Stobe/Getty Images
NEW YORK, NY - JULY 13: Floyd Mayweather Jr. and Conor McGregor face-off during the Floyd Mayweather Jr. v Conor McGregor World Press Tour event at Barclays Center on July 13, 2017 in the Brooklyn borough of New York City. (Photo by Mike Stobe/Getty Images)
While Conor McGregor prepares for his upcoming super fight against Floyd Mayweather, he's taking every chance he can to troll his opponent, even at the expense of Golden State Warriors forward Draymond Green.
Green shared a photo of McGregor wearing a No. 23 Warriors jersey, believing it was his own with the caption "We rocking with Floyd bro not you… take that off bruh."
McGregor responded by clarifying that it was instead a C.J. Watson jersey that he was wearing in the photo and telling Green that he was unaware of who he was. He added, "No disrespect tho kid, keep hustling and stay in school.?
?Now ask yourself why I?m rocking C.J. when I don?t give a f*ck about basketball. I dribble head off the floor. Not a ball. This is no game here, kid.?
Now you're probably asking yourself why McGregor would wear the jersey of Watson, a journeyman point guard.
According to a Las Vegas police report, Mayweather's ex-girlfriend, Josie Harris, told police that text messages between her and Watson led to the boxer threatening their lives and beat her during an incident in 2010.
Harris told authorities she woke up to see Mayweather holding her phone, yelling at her about a text exchange with Watson.
"Are you having sex with C.J.," Mayweather reportedly shouted at Harris, who has three children with the boxer. According to her testimony, she told Mayweather she was seeing Watson and the fighter responded by punching her in the back of the head.
Mayweather pleaded guilty to a domestic violence charge and was sentenced to 90 days in prison, however, his sentence was reduced to two months in jail and later reconciled with Harris.