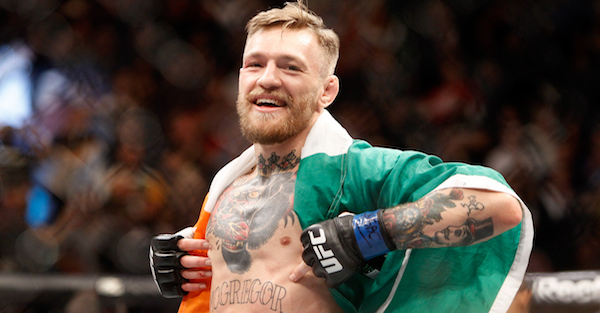 Steve Marcus/Getty Images
LAS VEGAS, NV - DECEMBER 12: Conor McGregor celebrates after a first-round knockout victory over Jose Aldo in their featherweight title fight during UFC 194 on December 12, 2015 in Las Vegas, Nevada. (Photo by Steve Marcus/Getty Images)
Lightweight contenders Tony Ferguson and Khabib Nurmagomedov are scheduled to square off at UFC 209 in March for the interim lightweight championship. But Ferguson is calling out Conor McGregor instead for what he sees as him "running" from a potential matchup between the two.
Ferguson believes that McGregor is ducking him, making his upcoming fight at UFC 209 the "real" lightweight championship fight.
?I have a nine fights in a row win streak. Khabib has eight fights in a row," Ferguson said. "This is the first time you guys are ever gonna see this inside the octagon. This is for an interim title. It should be for the real s**t. Am I a little pissed about it? Yeah. Is Conor gonna defend his belt, that little (b***h)? Probably not. He?s gonna run. Go ahead. Go run. Go try to box. You?ll get your ass kicked too. And when you?re ready to come back, they?re gonna strip your belt and at 155, I?m gonna be holding it and you?re gonna be like, ?Oh I want my belt back? and this and that. I don?t give a shit. The fight, the real fight, is between Conor? No. Conor, sorry buddy. The fight?s between Khabib and Ferguson.?
RELATED: Conor McGregor's nightmare has come true
Meanwhile, McGregor's only UFC lightweight division fight came in a win over Eddie Alvarez. Ferguson (12-1) and Nurmagomedov (8-0)have a combined 21 fights in the division.
Ferguson further argues that with McGregor possibly fighting welterweight champion Tyron Woodley and/or getting in the ring with Floyd Mayweather Jr., there's little room in the near future for a fight between the two.