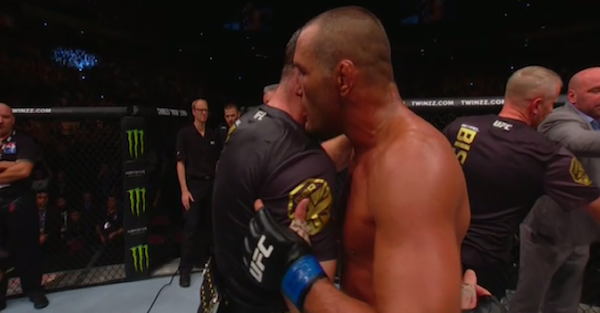 Bad blood got put to rest for good in Dan Henderson's retirement fight against longtime rival Michael Bisping for the middleweight championship Saturday night in the defending champ's hometown of Manchester, England.
Despite two early knockdowns and a fifth-round takedown, Bisping earned the unanimous decision thanks to precise striking.
The fighters were relatively tentative throughout much of the first round before Henderson landed a devastating overhand right that rocked Bisping. Once on the ground, Henderson just couldn't finish Bisping as he pounded the champ's face. Bisping regained his feet and finished the round with a couple stiff shots.
Bisping dominated much of the second round, landing heavy kicks and stiff jabs to Hendo. After an errant low kick appeared to catch Henderson below the belt, the veteran caught Bisping again with a brutal H-bomb that sent the champ sprawling. He survived the round again and moved to the third.
A clearly gassed Henderson faded quickly in the third as Bisping struck over and again with perfectly timed body kicks and straight right hands.
The fourth round was much of the same, as a gassed Henderson threw what he could while Bisping picked him apart with body kicks and quick punches, moving in and out and not allowing Hendo to pick up a rhythm.
In the fifth and final round, Henderson appeared to breathe and move better, striking Bisping easily and earning a key takedown.
Henderson (32-15), 46 years old, sought to become the oldest UFC champion in the organization's history.
Bisping (30-7) won the belt from Luke Rockhold at UFC 199.
The bad blood between Bisping and Henderson really took off in 2009 after the veteran knocked out the Englishman (the lone KO loss of his career) and added a little something extra after he was already clearly out.
Bisping promised to do the same if he knocked Henderson out at UFC 204.
Bisping (-240) was the favorite heading into the fight.