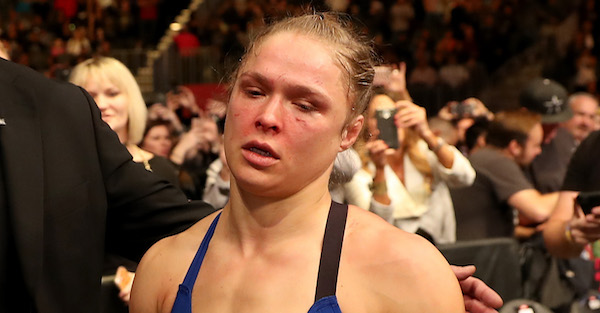 Christian Petersen/Getty Images
LAS VEGAS, NV - DECEMBER 30: Ronda Rousey exits the Octagon after her loss to Amanda Nunes of Brazil in their UFC women's bantamweight championship bout during the UFC 207 event at T-Mobile Arena on December 30, 2016 in Las Vegas, Nevada. (Photo by Christian Petersen/Getty Images)
This may be it for Ronda Rousey.
Dana White, the UFC boss, thinks she's done.
White told the UFC Unfiltered podcast, ?In the conversation I had with her, if I had to say right here right now ? again I don?t like saying right here right now because it?s up to her ? but I would?t say she fights again. I think she?s probably done.?
H added that she's in a good place mentally, and said on the podcast: ?She?s going to ride off into the sunset and start living her life outside of fighting."
RELATED: Ronda Rousey hints at her future following her latest loss
Rousey took the MMA world by storm, winning 12 fights in a row, and becoming one of the most recognizable faces in the country — in and out of the cage. But, she suffered two consecutive devastating losses — to Holly Holm in 2015 and Amanda Nunes in 2016 — and was soundly beaten in both.
As White noted, we still have not heard from Rousey, who has been fairly silent since her last defeat. With all of her side projects, including movies, it's wouldn't be a surprise if she walked away.
But her fans wojld certainly lament an end of an era