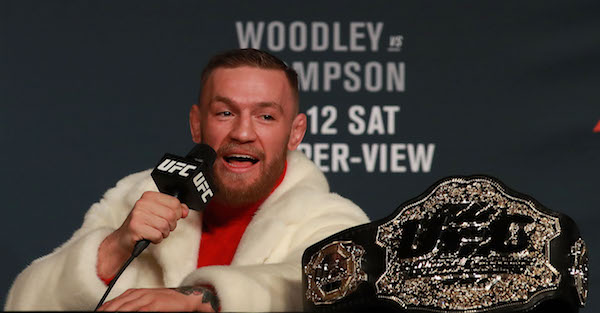 Michael Reaves/Getty Images
NEW YORK, NY - NOVEMBER 10: UFC Featherweight Champion Conor McGregor addresses the media during the UFC 205 press conference at The Theater at Madison Square Garden on November 10, 2016 in New York City. (Photo by Michael Reaves/Getty Images)
After Conor McGregor won the lightweight belt at UFC 205 to become the first champion in two weight classes (bantamweight as well), UFC President Dana White told the LA Times he won't fight again until after May.
Related: Odds set for Conor McGregor's next fight and it's blatantly disrespectful to Khabib Nurmagomedov
?He won?t fight before May,? White said of McGregor. ?His girl [Dee Devlin] gets super stressed out when he fights. He doesn?t want her having any of that stress while she?s pregnant. He?s good. He should take time off. He?s been fighting nonstop. Nothing wrong with him taking time off. It?s good for him and her and it?s good for the baby.?
The featherweight and lightweight champion discussed his standing in the UFC after his win Saturday night, pointing out that his employed needs to ?talk? to him if they want him back. He discussed possibly wanting some shares in the company, noting that he deserves to be ?set for life.?
McGregor has fought three times this year after beating Jose Aldo in December of last year (a submission loss to Nate Diaz, a decision victory over Nate Diaz and a knockout victory over Eddie Alvarez). He's competed in three weight classes over his last four fights.