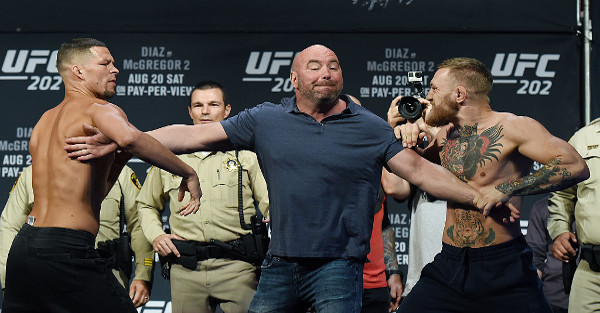 Ethan Miller/Getty Images
weigh-in for UFC 202 on August 19, 2016 in Las Vegas, Nevada.
Don't get too comfortable with the idea of a McGregor-Diaz trilogy because according to UFC president Dana White, it isn't happening "right away."
RELATED: McGregor carves up Diaz and beats him bloody in one of the best UFC fights of all time
"We're definitely not doing this a third time right now," White said, according to MMAfighting.com. "I don't think there's anybody that doesn't want to see this fight again, but Conor's either going to go defend his title or give his title up and then we'll figure out where to go from there."
McGregor is still the featherweight champion and hasn't defended his title in that division since UFC 194, when he captured it from Jose Aldo.
"Conor has to defend his title or make a decision to give it up or whatever he wants to do. I don't know," White said on SportsCenter on ESPN. "I gotta sit down and see what's next." Aldo is the interim featherweight champion after his win at UFC 200.
After their fight at UFC 202, McGregor and Diaz expressed interest in a third fight, but with McGregor telling Diaz to fight at 155 pounds, at lightweight.
[h/t MMA Fighting]