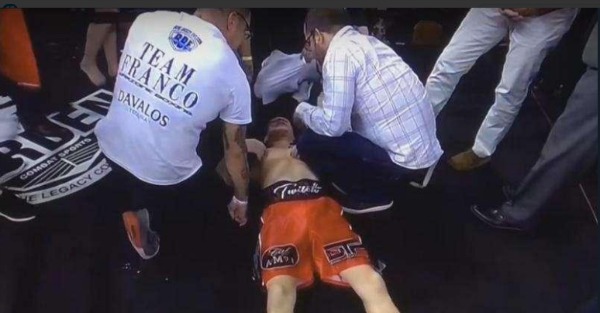 El Diario via Twitter
Featherweight Daniel Franco, who has been in medically induced coma following surgery to stop bleeding on his brain, is awake and doing better, his father told ESPN.
"Daniel had his breathing tube removed and is breathing on his own," Al Franco said. "They added an IV to his carotid artery in his neck and removed all other IVs. He's progressing well and it's all thanks to the great doctors and you all. Thank you all for your prayers. He added that his son has been moved out of intensive care.
Franco was hurt following a brutal knockout earlier this month.
The 25-year-old Franco (16-2-3, 11 KOs), battled Jose Haro, 30, (14-1-1, 8 KOs). In the eighth round, Franco took a hard right hand …
… and he hit the canvas in a strange way:
Franco was counted out and, according to a account in ESPN, seemed to be alert. But he eventually laid back down and the ring and had to be stretched out. ESPN said Franco was rushed to the hospital, where he underwent emergency surgery to stop two brain bleeds.
His family has set up a Go Fund Me page to help with his medical expenses.
https://twitter.com/TRUBoxingHeadz/status/873992735585427461