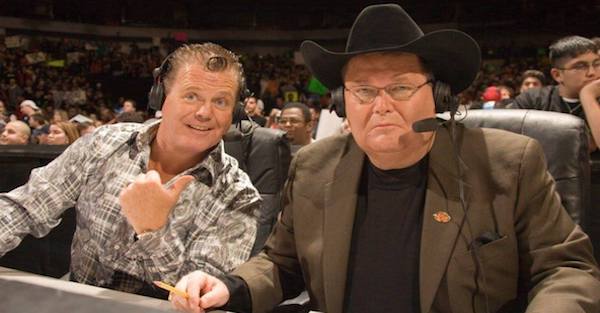 WWE/Facebook
Legendary WWE commentator Jim Ross made his return at WrestleMania 33 to call the Undertaker vs. Roman Reigns match.
It was later announced that not only had Ross signed a two-year contract to return to the company, but that he would be doing play-by-play with Nigel McGuinness for the UK television show, too.
But now we've learned that's not all Ross will be doing for the company this year.
Via 411mania:
"According to The Wrestling Observer Newsletter, Jim Ross? contract is for a specified number of dates, so he won?t be doing any 52 week per year shows unless he signs a new deal. He?s doing commentary for the UK show, but will be doing that from the WWE Studios since the matches have already been taped. By doing it this way, Ross can knock out several episodes in one date. The site adds that Ross will likely be the lead announcer for the Women?s tournament as well."
Ross isn't going to be taking over play-by-play for any of the major shows, but f4w reporting that Ross will be calling the Women's tournament that WWE plans to hold very soon is huge.
With Mauro Ranallo gone, Ross appears to be stepping into that versatile role of calling all kinds of different tournaments and events.
WWE has still not released an official date for the tournament.