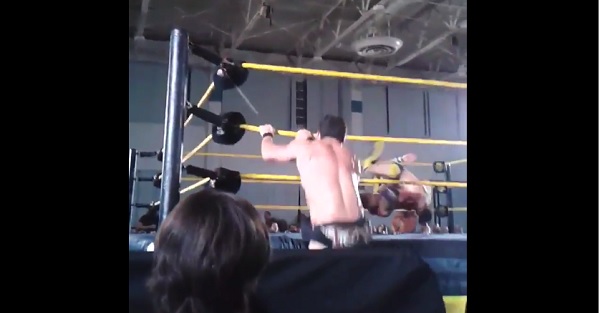 Twitter/Falkerman
Two weeks ago, one of WWE's best developmental talents appeared to suffer a major injury on this botched powerslam at an NXT live event in Florida.
It was previously reported that Itami would be out "several months" due to the injury, but it appears that WWE got some good news recently, as it is now being reported by Dave Meltzer that Itami will only likely miss two months in recovery.
From the Wrestling Observer (subscription required):
Hideo Itami is looking right now like he'll be out of action for about two months from the neck injury when Riddick Moss dropped him on his head with a twisting powerslam off the ropes. That's good news because with surgery he'd be looking at another six plus months off.
RELATED: Former WWE star could be in huge trouble after recent arrest
The fear was that Itami might need a neck surgery to fix whatever happened on that botched powerslam, but it looks like we will be able to recover without it. Neck surgery could have taken 6-12 months off of Itami's career, which would have been on top of the 14 months he missed between April 2015 and June 2016 nursing a shoulder surgery that later had complications.
The injury has already forced Itami out of NXT's Dusty Rhodes Tag Team Classic tournament, but at least he won't be out too long.