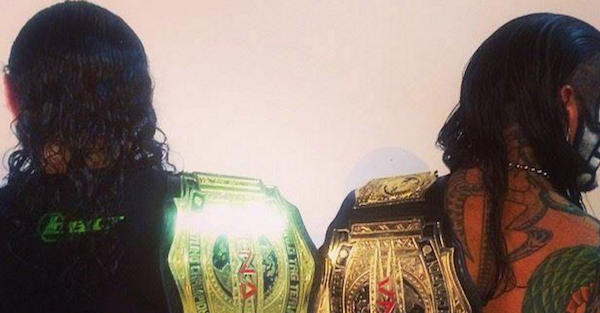 Jeff Hardy - The Charismatic Enigma/Facebook
Well this could prove to be a major screw up.
The latest reports are that Jeff and Matt Hardy — fixtures on TNA Impact! Wrestling for the past several years — could be heading back to the WWE after contract negotiations with Impact! reportedly fell through. According to the Wrestling Observer's Dave Meltzer, the reason why those negotiations fell through could be in relation to how the Hardys booked their dates with other independent wrestling promotions.
From Wrestling Observer Radio:
"The situation is that there was always a problem regarding the independent dates. And that was always gonna be an issue with the contract. TNA wanted control of their independent dates and to book their independent dates and to get a percentage of their independent money."
It is no surprise that these issues would come up, as it has been public knowledge that the Hardys' contracts were coming to end this month. When you combine that with new management, it is not a shocker that the company is having some problems negotiating with their top stars. According to Meltzer, those problems extend beyond independent dates, as the two parties were also at odds about how much creative control Matt Hardy had over his character and with the company.
WWE bound?
The biggest rumor is that the two will hop back to WWE, where they originally established themselves as stars in the late-1990s and early-2000s. Jeff Hardy eventually gained billing as a top star in the company, and he recently spoke with SI about a possible jump back to WWE (H/T Cageside Seats):
?For the people who really want to know where I?ll be after February, it?s just like what I said when I left [WWE]?this is only goodbye for now, this is not goodbye forever. As long as I?m healthy, there is always that chance I will return and have that one last run.?
The best pitch that WWE can make for the Hardys is simple: both will likely be booked well with the company, and WWE can offer more money than any other promotion. However, WWE often has a grueling schedule for their full-time superstars, and that is the big thing that could keep them away. Matt, 42, and Jeff, 39, both have children now, and companies like TNA and Ring of Honor could have a chance at them with their lighter scheduling, even if that means less money.
With WWE in the past, Jeff is a former three-time WWE World Heavyweight Champion, four-time Intercontinental Champion, and seven-time WWE tag team champion. Matt is a former one-time WWE ECW Champion and a former eight-time WWE tag team champion.