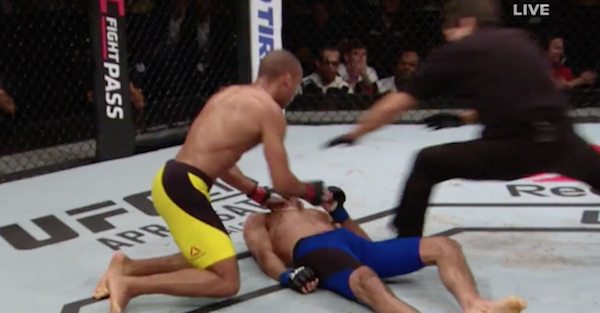 Clippit screenshot
Coming off two-consecutive wins, Edson Barboza made his claim for the lightweight title conversation with a devastating second-round knockout of Beneil Dariush at UFC Fight Night 106.
After the victory, Barboza (13-4) called out Tony Ferguson, begging for a rematch of the last man to beat him, via MMA Junkie. Ferguson was positioned for an interim title fight against Khabib Nurmagomedov, who had to be rushed to the hospital after weight cutting went wrong:
"I think I deserve the title shot," Barboza said. "I've been in the UFC for a long time. I've got really good wins in my last three fights. I'm ready to fight five rounds. I can't wait, man. I'm very excited to fight five rounds. I hope the UFC gives me a chance.

"Imagine it, guys," he said. "Me and Ferguson, five rounds? That'd be crazy, guys. Please UFC, give me a chance."
No word on if Nurmagomedov will get a shot at Ferguson, or if the UFC changes directions.