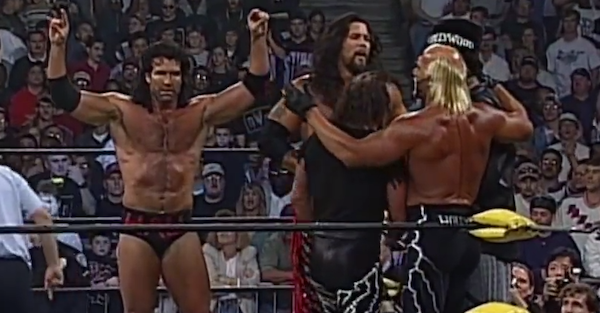 WWE/YouTube
WWE/YouTube
One of the biggest moments in professional wrestling history was Hulk Hogan's heel turn at WCW's Bash at the Beach pay-per-view (PPV).  Hogan, after years and years of being a babyface and one of the biggest pro wrestling stars of all-time, shocked wrestling fans everywhere as he joined forces with The Outsiders (Kevin Nash and Scott Hall) and went on to form one of the most iconic wrestling stables in history — the New World Order (N.W.O.).
But according to WCW legend Eric Bischoff, the change from Good Guy to Bad Guy wasn't natural or easy right away for the Hulkster.
In an interview with Sports Illustrated, Bischoff revealed how "unsure" Hogan was about the change to his character, but also adding that he eventually figured it out and he ended up buying in and running with it.
Via WrestlingInc:
"Hulk got very comfortable in that heel role, but initially, it was very hard for him. He was so unsure how the fans would react after being so familiar seeing him as a babyface for so long. There was a big part of Hulk Hogan that loved being a heel, and once he connected to that character, and once the audience connected to that character, he thoroughly enjoyed it."
Hogan being "unsure" about turning heel at the time makes a lot of sense because even though his babyface character had gotten stale to a lot of wrestling fans, he was still a highly recognizable and popular figure because of that character. To move away from that was a huge risk, and it's something John Cena probably thinks about a lot, too because in wrestling there are no guarantees.
Still, the change obviously worked and Hogan went on to have an incredible run as one of the best heels the business has ever seen.
It should be interesting to see if Hogan opens up about Bischoff's comments, though, or if he denies that the role was originally uncomfortable for him.