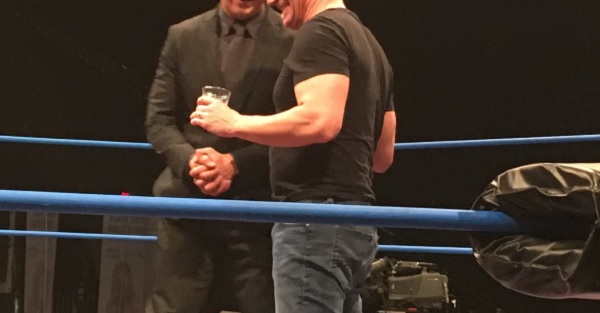 Twitter/Ed Nordholm
"A picture is worth a thousand words" is the old cliche. Here it might just be worth several hundred thousand dollars.
TNA Impact! is holding their television tapings for the next month today, and the pro wrestling world was lit ablaze when a picture of former WWE champion Alberto Del Rio and TNA executive Jeff Jarrett started circling on Twitter.
Del Rio wasn't just there for contract negotiation, though. Later through the tapings, we found out that Impact! is putting a lot of trust in their newest signee, as Del Rio won their world heavyweight title on his first night, defeating Bobby Lashley.
Well that's a bold decision. Still, Del Rio does have name value and he is a quality wrestler. If TNA didn't break the bank to bring him in, then it may be worth it.
In his two stints with WWE, Del Rio was a four-time WWE World Heavyweight Champion. He is also a two-time U.S. Champion and the winner of the 2011 Royal Rumble. Del Rio was released from WWE last year after the two agreed to part ways following a one-year deal.