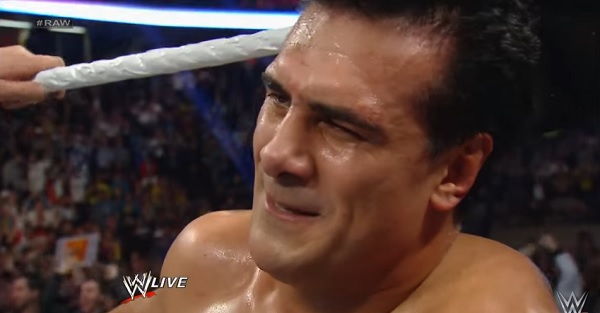 YouTube/WWE
In WWE, you live for the moments with the huge reactions, and this is definitely one of the biggest of all time.
This moment took place four years ago at the episode of RAW after WrestleMania 29. Alberto Del Rio had retained his World Heavyweight Championship the night before, and he had just gone through a brutal second match with Jack Swagger and Zeb Colter on RAW. Del Rio won that second match, but it wouldn't be long before he had another.
Enter Dolph Ziggler.
Ziggler was the holder of the Money in the Bank briefcase, which entitled him to a shot at the world title whenever he "cashed in". Though playing a villain on television, Ziggler's music drew a huge pop from the crowd, who knew that a title change was likely coming.
After a short match, Ziggler finally pinned Del Rio, winning the World Heavyweight Championship for the second time in his career, creating another huge pop from the crowd.
Ziggler later lost the title back to Del Rio two months later.
Probably the weirdest thing about this moment? Though only four years later, five of the people involved in this angle are no longer with the company. Del Rio left last year after his contract expired and is no longer on good terms with WWE. Ziggler's valet here, AJ Lee, also left the company after her husband — the notorious CM Punk — was fired, forcing a law suit.
Swagger and Colter? Also gone. Ring announcer Justin Roberts? Yep, he's gone, too. For one of the great WWE moments — WWE even rated it as the third best crowd reaction — it created a lot of turnover in a hurry.