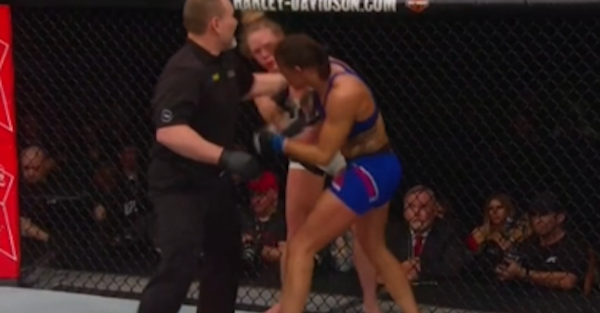 Giphy screenshot
In the first ever UFC women's featherweight title bout, Germaine de Randamie (7-3) stunned the world to claim her first UFC title in a win over Holly Holm (10-3).
Holm circled de Randime over the first round and a half, typically attacking with a left-right-leg kick, and her opponent was waiting for it. De Randime caught Holm over and again with a nasty counter right hand that left her wobbling.
De Randime (a muay thai expert) found success in the clinch, but it was Holm who tired her opponent and made her work against the cage for the second half of the second round. A questionable late punch drew plenty of controversy as an illegal shot from de Randime, easily the nastiest of the fight to that point.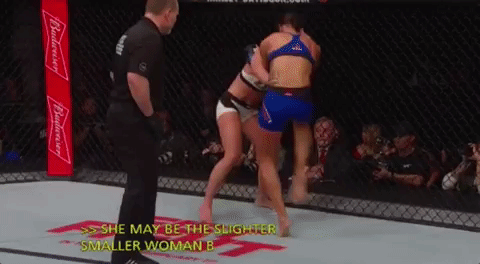 Holm shook de Randime with a nasty head kick, but her opponent struck back, yet again attacking after the round had ended. The referee refused to take a point away and noted it was the last round this could happen.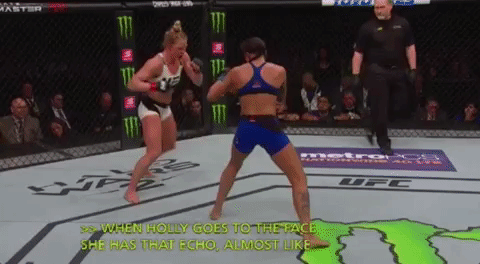 Holm controlled the fourth and fifth rounds, attacking at will and holding de Randime against the Octagon as she maintained control of the fight to that point.
De Randime's precise strikes and Holm's inactivity on the cage made it difficult to score, and officials gave the bout to the Netherlands native, de Randime.
Holm infamously knocked out Ronda Rousey at UFC 193, but her career has been derailed since she was choked unconscious at the hands of Miesha Tate in her first title defense. Holm then lost a decision bout to Valentina Schevchenko at UFC on Fox 20.
De Randamie's only UFC loss was at the hands of current bantamweight champion Amanda Nunes at UFC Fight Night 31. Nunes got a takedown early, moved into full mount and was able to throw ferocious elbows for the TKO victory.
De Randime will almost certainly defend her belt against Cris Cyborg if the UFC challenger is able to slip away unscathed from a possible drug violation.