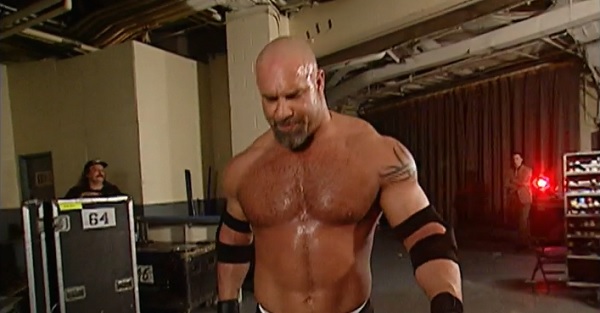 WWE Network
When it was reported that Bill Goldberg was in serious talks with WWE, it was expected for one reason: a match with Brock Lesnar at WrestleMania 33 in Orlando.
Apparently WWE doesn't want to wait that long.
Jim Ross first reported on Tuesday night that WWE had made a deal with Goldberg, and that they expected him to have a match with Brock Lesnar at Survivor Series in November. Journalist Dave Meltzer of the Wrestling Observer seemed to confirm that report later.
From the Wrestling Observer:
At this point, a Brock Lesnar vs. Bill Goldberg match is all but confirmed for WWE Survivor Series on November 20 in Toronto.

There had been rumors from inside WWE that a deal for such a match had been completed over the weekend and two WWE sources over the last two days also indicated such a match was either finalized or at least in heavy negotiations.

RELATED: Former WWE champ shares photos after alleged stabbing incident forces him to miss show
The match would be a rematch of a WrestleMania XX bout that didn't exactly go as planned. Both Goldberg and Lesnar were publicly leaving WWE, and fans knew that it was the last match with the company for each wrestler. Both performers phoned it in, fans turned on the match, and the only bright spot was Stone Cold Steve Austin as guest referee.
Goldberg is currently scheduled to appear on Sportscenter on Wednesday to hype up WWE 2K17. He may also be there to make an announcement on his relationship with WWE.