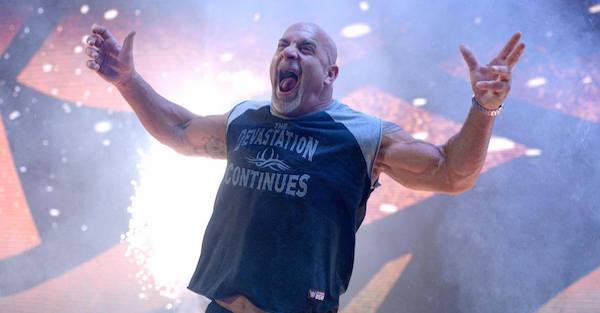 WWE Raw/Facebook
WWE Raw/Facebook
WWE and WCW legend Goldberg finished up his latest run with Vince McMahon's company at WrestleMania 33 where he dropped his Universal Title to Brock Lesnar.
Goldberg hasn't been seen since saying goodbye at the Raw after WrestleMania where he said his goodbye to the WWE Universe.
However, that may not be the last time we see Goldberg in a WWE ring as he recently opened up about a possible return with WrestlingInc.
Via Sportskeeda:
"Personally and professionally, it's something that I would have to take into consideration if it was ever presented to me again. As far as the physical aspect is concerned, as I sit and look at myself in the gym I ask myself what I am going to do with this? I don't think it's an impossibility, but it could be an improbability to ever get back in the ring, but never say never. Like I said the last time; you never know who is next and you never know what is next."
It's clear that at 50-years-old, the work that's required to stay in wrestling shape is very strenuous and something that weighs on him as he considers a return.
It sounds like he'd be more open to a return where he doesn't have to wrestle than having to come back and work more matches for the company.