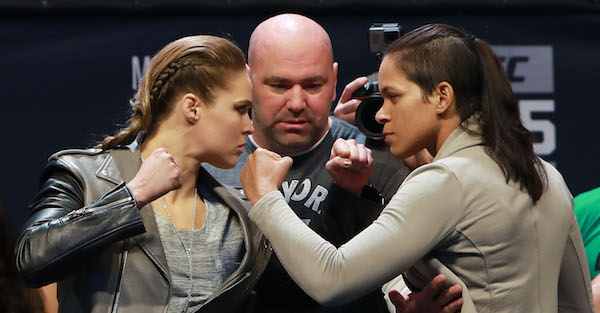 Michael Reaves/Getty Images
NEW YORK, NY - NOVEMBER 11: UFC Women's Bantamweight Champion Amanda Nunes faces off with Ronda Rousey after UFC 205 Weigh-ins in preparation for their UFC 207 fight that will take place on December 30, 2016 at Madison Square Garden on November 11, 2016 in New York City. (Photo by Michael Reaves/Getty Images)
After quickly disposing of Ronda Rousey and ending her comeback to the octagon, UFC champion Amanda Nunes had a few words of advice for her opponent.
Related: Ronda Rousey releases first comments following devastating UFC 207 loss
According to MMA Fighting, Nunes had this to say to Rousey:
?You did a lot for the sport. You did a lot, but now you can take time and do something else. You don?t need to keep doing that (sic)."
Nunes said she doesn't think Rousey will be back any time soon.
"She is a millionaire already why would she want to keep doing that? Why would she want to keep getting hurt?"
Nunes also said Rousey's downfall was thinking she could hold her own using boxing techniques, and Nunes criticized Rousey's coach, Edmond Tarverdyan, for employing that strategy.
?Yeah, because she thinks that she?s a boxer, you know?? she said. ?He like put this thing in her head and make the girl believe in that. I don?t know why he did that. She have great judo, and she can go far in this division, but he put some crazy thing about boxing, and her career started to go down. And if I win that, I am the real striker. This is the only thing I wanted to look at him, to say it.?
After losing so badly and so quickly, this might be it for Rousey's career as a fighter.