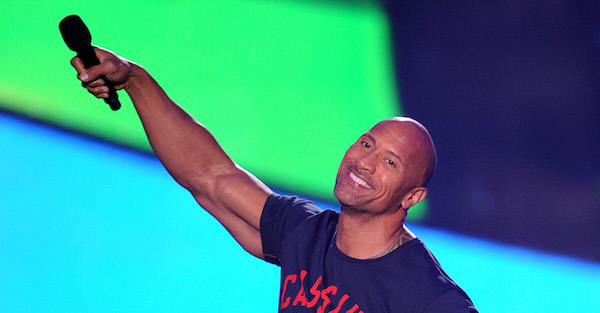 speaks onstage during Nickelodeon Kids' Choice Sports Awards 2014 at UCLA's Pauley Pavilion on July 17, 2014 in Los Angeles, California.
Dwayne "The Rock" Johnson has laid the smackdown in the wrestling ring, on the big screen and it sure sounds like he might just have his sights set on doing the same in the White House.
Here's what Johnson said, per GQ:
"I'll be honest, I haven't ruled politics out. I'm not being coy when I say that, but at the moment I am not sure. I can't deny that the thought of being governor, the thought of being president, is alluring. And beyond that, it would be an opportunity to make a real impact on people's lives on a global scale. But there are a lot of other things I want to do first."
Imagine a political official requesting something the Rock doesn't want:
This isn't the first time The Rock has hinted at a future in politics, as he told Reuters in 2012:
"One day, and that day will come, I can impact the world through politics," Johnson said.
Is it too late to get Johnson on the ballot for 2017?