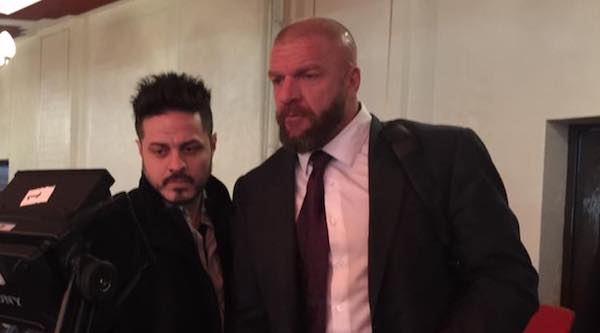 Triple H/ Facebook
WWE NXT is growing larger and larger, and WWE superstar Triple H is one of the biggest reasons behind it. One of the brand's biggest draws, Shinsuke Nakamura, however, is suspiciously absent in a UK Download Fest poster that was tweeted out by Triple H.
The poster features other big names from the promotion like Bobby Roode, Asuka and Tye Dillinger — even the returning Kassius Ohno. Nakamura is nowhere to be found, though.
It's been rumored for sometime now that Nakamura may be getting a call-up from NXT after WrestleMania, and Triple H tweeting out this poster for an upcoming NXT tour without Nakamura's inclusion only adds more fuel to the fire that Nakamura will be leaving the promotion soon.
On the other hand, Triple H could also just be working wrestling fans here knowing that Nakamura's absence would be noted.
Nakamura is a former two-time WWE NXT champion and a three-time IWGP Heavyweight champion.