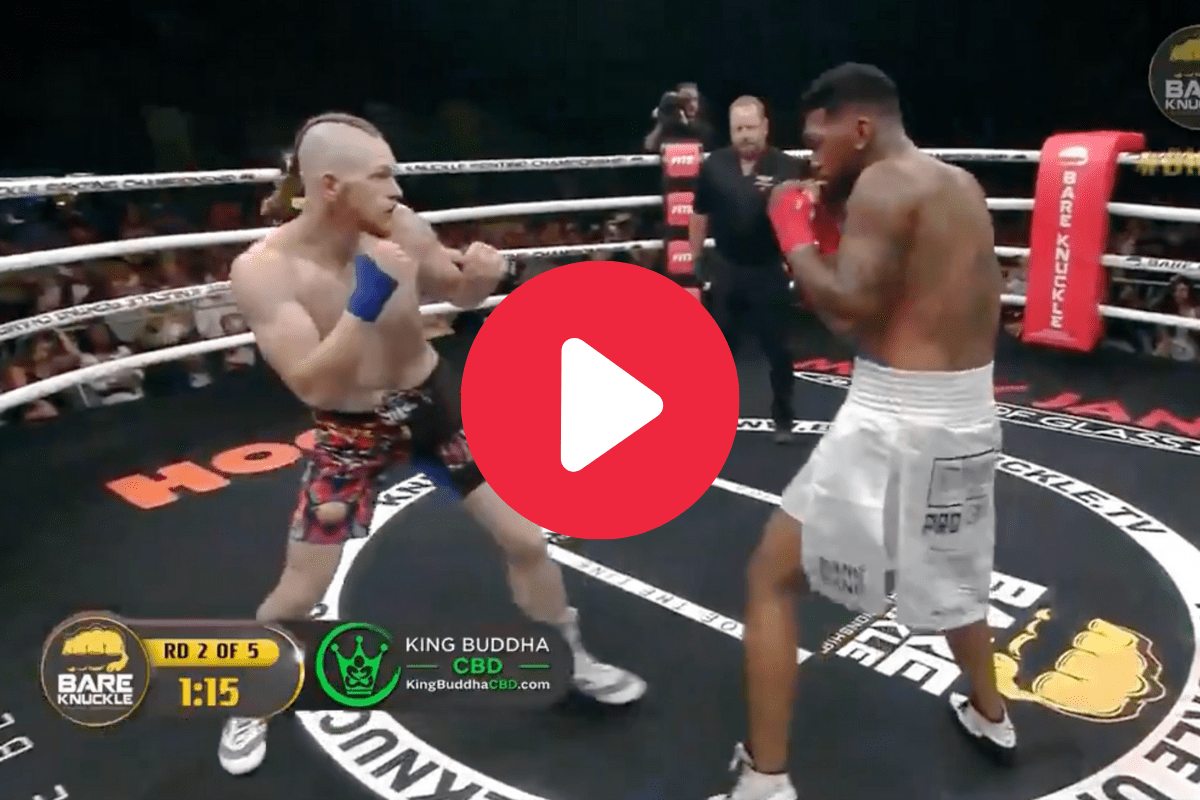 Screenshot from Twitter
Everyone loves a good knockout video. If you don?t, well, that?s kind of weird. The sudden shock of scrolling through social media and watching someone connect with a vicious uppercut or roundhouse kick is priceless. So get ready for a bare-knuckle boxing knockout for the ages.
Here?s the scene: It?s Johnavan Vistante against Kaleb Harris. It?s one of eight bouts in the Bare Knuckle Fighting Championship 7 ? known as BKFC 7 ? that featured some strong MMA contenders and former UFC fighters. It?s nearing the end of the second round, and Harris has already put Vistante on the canvas a few times before.
Then, what happened Saturday night, August 10, 2019, at the Mississippi Coast Coliseum in Biloxi, Mississippi will make you lean back in your chair. Harris connected with Vistante so good that Vistante?s whole body goes stiff and face-plants.
Kaleb Harris Knocks Out Johnavan Vistante
No matter the angle or how fast the clip plays, this is one of the more vicious knockouts you?ll ever see. It was a clean shot right to the jaw and it knocked Vistatante out cold.
It also made Johnavan Vistante retire for good in a tweet after the fight.
Johnavan Vistante Retires
?It was a good run. Had my first professional fight at 16. I loved every minute of it. It?s took me too long to realize that the dream of my children and family are more important than mine alone. It?s been real guys. I love every single one of y?all who have supported me. Thank u.?
Nobody can blame Vistante for this decision. When something that drastic happens, you?re honestly just happy to walk away from it.
With that punch, however, Harris also stole the show in an event that featured card bouts such as Jim Alers and Leonard Garcia in the main event, Chase Sherman and Arnold Adams for tthe BKFC heavyweight title, Helen Peralta and Christine Ferea in the BKFC featherweight, Isaac-Vallie-Flagg against Melvin Guillard, Adam Pellerano against Joshua Boudreaux, Dale Sopi against Juan Torres, and Quintin Henry against Bubba Malbrough.
A rematch will never happen. The face-plant KO was enough. And, honestly, that would make just about anyone want to retire.
This post was originally published on August 13, 2019.