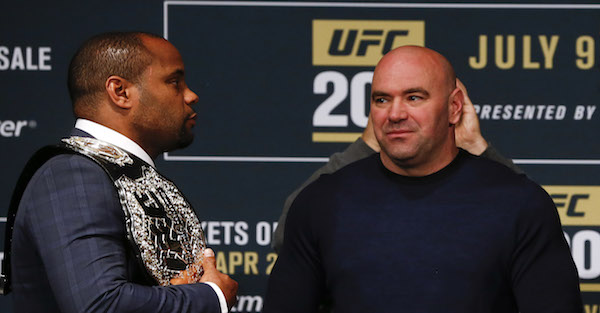 Jeff Zelevansky/Getty Images
NEW YORK, NY - APRIL 27: UFC president Dana White stars between Daniel Cormier (L) and Jon Jones as they square off during a media availability for UFC 200 at Madison Square Garden on April 27, 2016 in New York City. (Photo by Jeff Zelevansky/Getty Images)
UFC's summer kickoff press conference started with a bang Friday, as Daniel Cormier and Jon Jones took their never-ending feud to new heights.
Jones, who is currently serving a year-long suspension that isn't up until July, started the banter between him and Cormier when talking about the validity of Cormier's title reign.
Jones and Cormier clearly don't like each other, but these comments take their rivalry to the next level.
From the exchange, we learned that Cormier took exception to Jones bringing up the former's kids before, which prompted Cormier to throw a water bottle at Jones.
The highlight of the vicious exchange came when Jones fired back at Cormier throwing shots at his behind-the-scenes issues by pointing out that even with his problems he still beat Cormier.
Jones can't compete again until July, but it's clear we're going to get one more match between these two in the not-too-distant future.