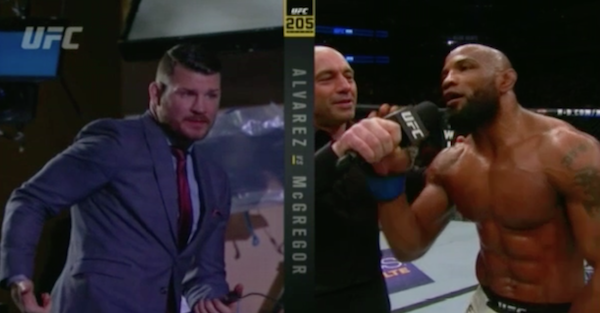 UFC screenshot
The brash Brit, middleweight champion Michael Bisping (30-7) isn't backing down from anyone — not even the chiseled and ferocious Yoel Romero (12-1).
On his SiriusXM show on Thursday (via MMAJunkie), Bisping announced he's "never ducked anyone in (his) life, and never will," before saying he told UFC President Dana White to "book the fight" sometime in the spring.
Bisping is recovering from what he calls some injections on his knee, and he's expecting the Romero fight sometime in the spring unless "something else transpires in some other situation."
Romero has a questionable history, from sitting on his stool in the corner an extra 30 seconds to failing a drug test and, his latest action, dumping water all over himself to delay the start of a round, he's nearly done it all.
Bisping has been vocal in the past against Romero, and you can expect the build for this fight to be an entertaining one.
Bisping is 2-0 in his two last two title fights, beating Luke Rockhold by knockout to win the belt and defeating Dan Henderson by decision in his first defense.