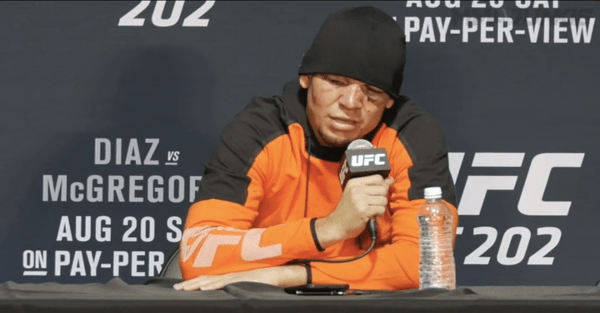 Youtube/Screenshot
It appears Nate Diaz is steadily taking a beating, even after his loss at UFC 202.
RELATED: After losing to Conor McGregor, Nate Diaz was full of excuses
After questions were raised about what Diaz had been vaping in his post-fight presser, he could be potentially facing a one-year ban for the substance he claimed was CBD. According to MMAFighting.com, the USADA has launched an investigation to determine whether or not Diaz should be suspended.
MMA Fighting reports that Diaz faces the suspension after pictures surfaced of him vaping cannabis at the UFC post-fight press conference Saturday night. Diaz said the substance was cannibidiol oil. According to MMA Fighting, Diaz said,:
?It?s CBD. It helps with the healing process and inflammation, stuff like that. So you want to get these for before and after the fights, training. It?ll make your life a btter place.?
The only probkem — fighters can't use cannibidiol six hours before or after a fight, as per guidelines by the World Anti-Doping Agency Code. Diaz was spotted smokung the substance after the fight and within the six hour timeframe. As a result, Diaz could get anything from a public-warning sanction to a one-year suspension.
?I can confirm that USADA is aware of the situation and is currently gathering information in order to determine the next appropriate steps,? USADA spokesperson Ryan Madden told MMA Fighting in a statement.
While Diaz was reportedly tested before the presser, or the vaping, his admission to what he was vaping could be taken as a positive test, since it was within six hours of the fight.
Diaz has already taken a beating in the media, stemming from his comments after the fight regarding opponent Conor McGregor in which he insisted McGregor ran during their fight and that he lost because of pre-existing injuries.
[h/t Bro Bible]