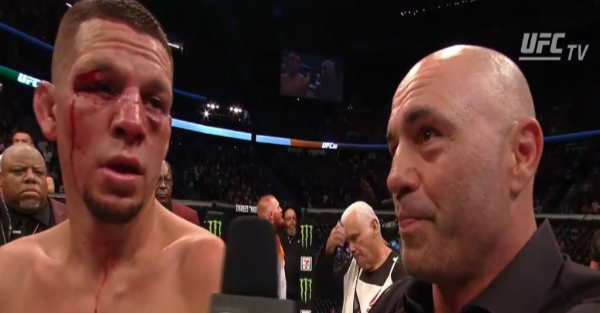 screen shot
Warning: NSFW, language
Conor McGregor scored a controversial decision over Nate Diaz in their rematch at UFC 202 Saturday night. Diaz landed more blows and took control in the fight's latter wounds, leading many to believe that Diaz actually won the five-round battle.
RELATED: Nate Diaz thinks he won the fight, but his face says otherwise
That includes Diaz himself, who went on a expletive-laden rant when UFC announcer Joe Rogan interviewed him after the fight. Among other pleasantries, Diaz told Rogan he thought he won the fought and felt that the judges conspired against him because ?they can?t have a m*********er like him winning because he?s too real for the sport.?
RELATED: McGregor beats Diaz in one of the best UFC fights ever
Diaz ended the interview by calling McGregor out for a third fight. And we can only hope that installment happens promptly.