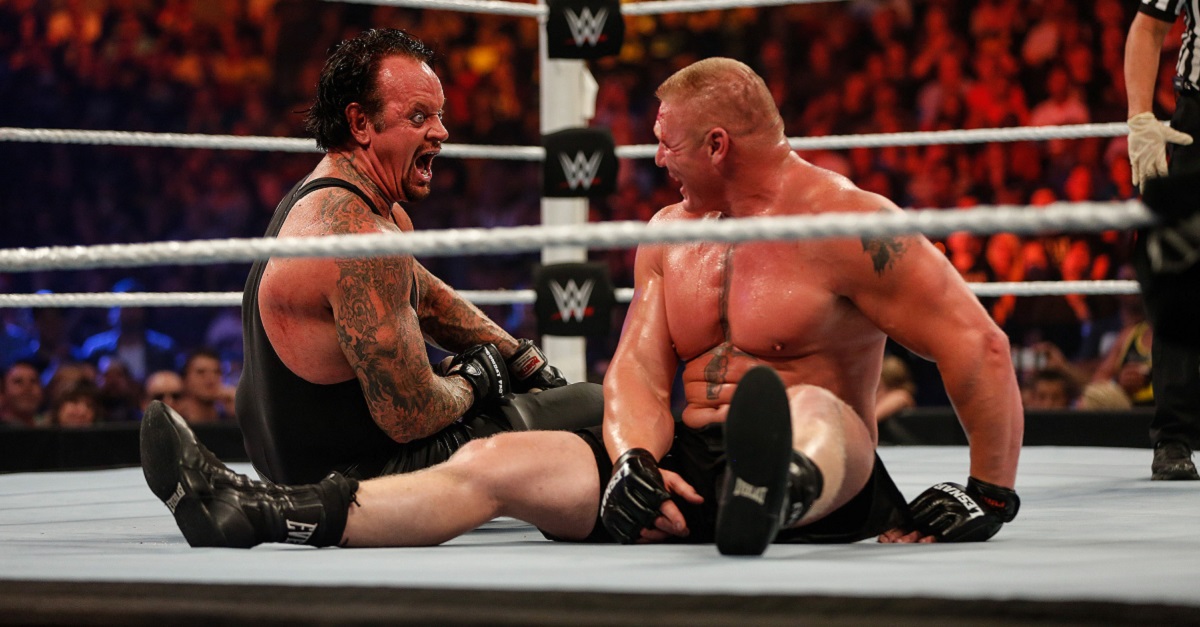 JP Yim/Getty Images
NEW YORK, NY - AUGUST 23: Brock Lesnar and The Undertaker battle it out at the WWE SummerSlam 2015 at Barclays Center of Brooklyn on August 23, 2015 in New York City. (Photo by JP Yim/Getty Images)
It looks like WWE star Braun Strowman could be out for a couple of months, which is a huge problem for WWE. Strowman was scheduled to face Brock Lesnar for the Universal Championship at July "Great Balls of Fire" — yes, that really its name — pay-per-view, but now WWE is left scrambling to find a new opponent for Lesnar.
With Roman Reigns likely off the table as an opponent — WWE wants to save that for WrestleMania — options are thin of credible opponents that can headline against Lesnar. However, according to Dave Meltzer of the Wrestling Observer (subscription required), the names at the top of the list to replace Strowman (if necessary) are former WWE Champion Seth Rollins and the first Universal Champion Finn Balor.
Rollins has faced Lesnar twice before: one in a triple threat at the 2015 Royal Rumble in a match that also included John Cena, and a singles match at the Battleground show in the summer of 2015. Rollins has been spinning his wheels a bit since he returned from his knee injury last year, and it would take a bit of a build to make him credible for Lesnar.
Balor would be a more interesting prospect, as he and Lesnar have never had a match together before. Of course, with Lesnar scheduled to win, WWE may keep that one off in order to avoid giving Balor a loss while the company is trying to build him up.
SlamBuzz's Take
WWE should go with Rollins here if Strowman can't recover in time. He's worked with Lesnar before, and he won't be hurt as much by a loss in this scenario — so long that WWE allows him to actually get some offense in on Lesnar. If you are going to do a match with Balor, WWE should save it to a point where Balor can go over, as he is expected to be a future star of the company for the next 5-10 years.