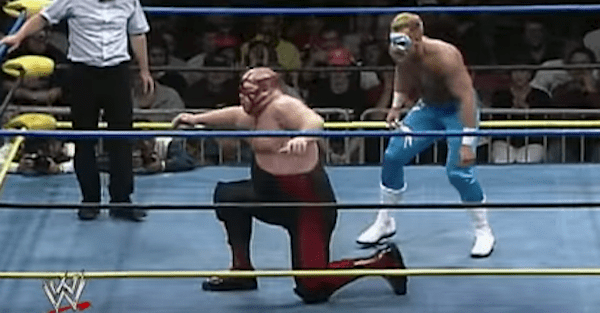 YouTube/WWE
A former champion that said he only had two years to live back in November may have less than that based on one of his latest messages on Twitter.
Former WCW champion Vader has been battling congestive heart failure for the past few months, and based on one tweet from yesterday, it doesn't look like things are getting any better.
The message in full:
As I enter my final days, proud of the Father Son Brother Football player Pro WrestlerThe Super Heavy Big Man Goat Im Grateful for the Time
Related: "Big Van Vader" once had his eye poked out during a match… and he kept working anyways
Vader, real name Leon White, still wrestled on occasion over the past few years despite. However, the 61-year-old's health started to deteriorate last year after a bad roll-over car accident.
The fallout from that accident later led to a diagnosis of congestive heart failure, where Vader revealed that doctor said he only had two years left to live.
Vader was a former All-American offensive tackle at Colorado before heading into the pro-wrestling world. In wrestling, "Big Van Vader" first made his name in Japan, where his initial victory over Japanese legend Antonio Inoki brought a legitimate riot from the crowd, solidifying Vader's status as a top contender for years to come.
In his career, Vader won both the IWGP Heavyweight Championship (Japan) and the WCW World Heavyweight Championship three times. Vader also wrestled with WWE in the late-90s, being involved in several high-profile feuds with Bret Hart and the Undertaker for the then WWF Championship.
Vader was named the Wrestler of the Year by the Wrestling Observer in 1993, and he was later one of the inaugural inductees into the Wrestling Observer Hall of Fame in 1996. Vader has yet to be inducted into the WWE Hall of Fame, making him one of the most significant wrestlers yet to receive that honor.