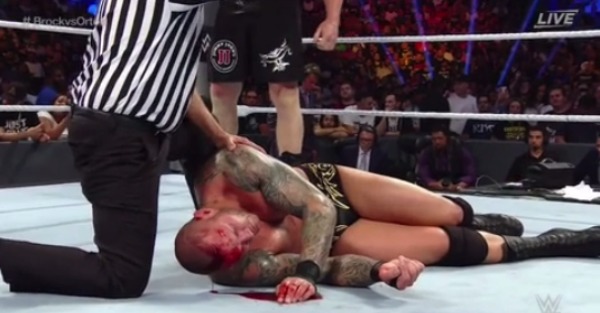 Twitter/Summerslam
It took a few months, but Randy Orton has officially spoken out on the match that left him in a pool of his own blood at Summerslam.
In case you forgot, yes; literally a pool of blood.
Related: WWE's longest tenured commentator officially pulled off regular programming
In an interview with USA Today, Orton talked about the controversial finish to the match with Brock Lesnar, expressing some sense of accomplishment and disappointment about the match.
I think with Lesnar, it's always going to be him coming in every few months as a monster who destroys guys who work 200 days a year … There is a tendency for that to get old. I could have looked a little better that night and that would have helped me a lot regardless of the finish and not hurt Brock's character at all. But the fact that you're asking me about it three-four months later, means we created a buzz. But the fact that I had a concussion and was out for three weeks and wasn't able to do anything pissed me off.
Orton needed 10 staples to close the wound left by Lesnar's elbow, and he was legitimately out for several weeks to deal with a concussion. Orton is right about the buzz the match made, as many wrestling fans were confused on if what they just saw was a "worked" finish or a real screw up by the two performers.
Related: Details emerge on former WWE star currently sitting in Japanese prison
Fans weren't the only ones left in the dark, as wrestling legend Chris Jericho nearly got into a legitimate fight backstage with Lesnar after he went to check on Orton. The fight reportedly started after WWE officials refused to tell Jericho if the finish to the match was planned or not.
Regardless, it looks like Orton has moved on from the incident, and he is faring well recently in a new role. Orton is currently part of the SmackDown Live tag-team champions with Bray Wyatt and Luke Harper after winning the titles last week.
Lesnar, meanwhile, is currently sitting out until the Royal Rumble pay-per-view after a shocking match last month against Goldberg.