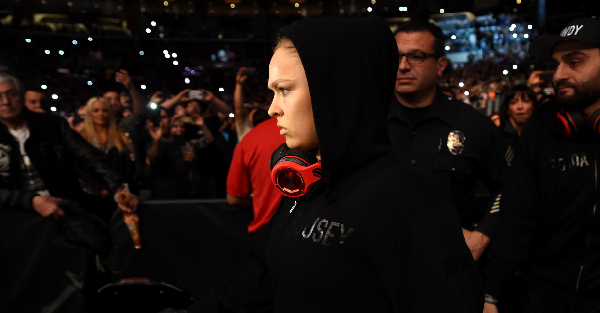 Harry How/Getty Images
LOS ANGELES, CA - FEBRUARY 28: Ronda Rousey enters the arena in her UFC women's bantamweight championship bout against Cat Zingano during the UFC 184 event at Staples Center on February 28, 2015 in Los Angeles, California. (Photo by Harry How/Getty Images)
UFC fans have been wondering for months what Ronda Rousey's future in the octagon looks like after her first-round TKO loss to Amanda Nunes in Decemeber.
Rousey hasn't revealed her future plans in the UFC since the fight, and if UFC President Dana White's comments are any indication, her return to the octagon isn't looking good.
However, Dan Garner, a strength coach who works with other MMA fighters, revealed in an Instagram post that he'll be working with Rousey.
https://www.instagram.com/p/BSMYHlFgurz/?taken-by=dangarnernutrition
It's certainly interesting Garner says, "Excited to have her on board and to accomplish some great things with her this year."
He isn't clear whether that means great things for Rousey in the octagon or not, but it is nice to see Rousey preparing for something.