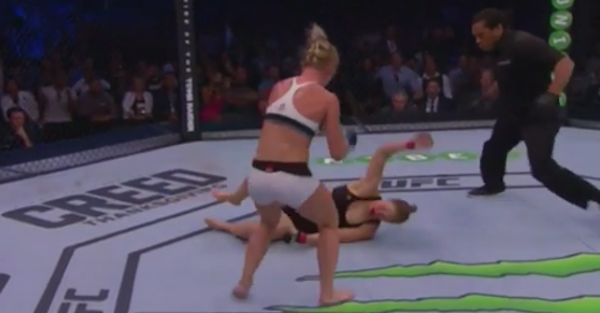 Streamable screenshot
Ronda Rousey was used to blitzing through her opponents for much of the past two years, tapping them out or knocking them out early.
Naturally, Rousey was overconfident heading into the bout, and she showed the ultimate disrespect, refusing to touch gloves:
But Holly Holm proved to be a different opponent, as Rousey's attacking nature served to only harm her. Holm snapped jabs and hooks, popping Rousey over and again throughout the first round. She stunned the champ a few times before sending her back to her corner with her brain scrambled and with a busted up face.
With her range figured out and Rousey's inability to slip or weave away from the devastating hits, Holm connected on a left hook before connecting on the head kick to put her out for the night:
After a year layoff, Rousey will return to the Octagon Friday night against bantamweight champion Amanda Nunes in her first title defense.