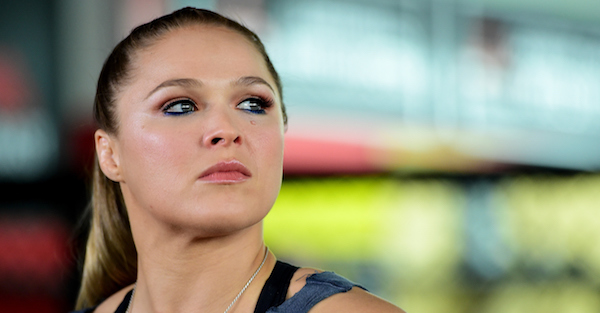 GLENDALE, CA - OCTOBER 27: Ronda Rousey speaks to media at a press conference leading up to her fight against Holly Holm in UFC 183 at the Glendale Fighting Club on October 27, 2015 in Glendale, California. (Photo by Harry How/Getty Images)
Related: Ronda Rousey tore into internet trolls because of stupidity like this
---
Former UFC bantamweight champion Ronda Rousey made it known how she feels about internet trolls (hint: not favorably) back in February.
Unfortunately for Rousey, those sober comments only brought out the worst in select individuals, and it was on display again when the actress and women's fighter shared a simple post thanking those that came out to the Reebok #PerfectNever luncheon.
Someone took a jab at her "DNB" catchphrase:
Don't be a DNB. When you gonna fight again????
Others mocked her appearance:
Ronda looks bloated and fat
And some took jabs at her career:
Hey Rowdy Ronda rousey ready for another beating by holly Holmes

Feminist scum. Love the way you hardly post since your loss. The definition of a coward
Even when (or if) Rousey shows back up in the UFC, comments like these unfortunately won't stop. It's the internet, and people are terrible.
Of course Rousey could take a page out of this boxer's book and just start tracking down trolls.