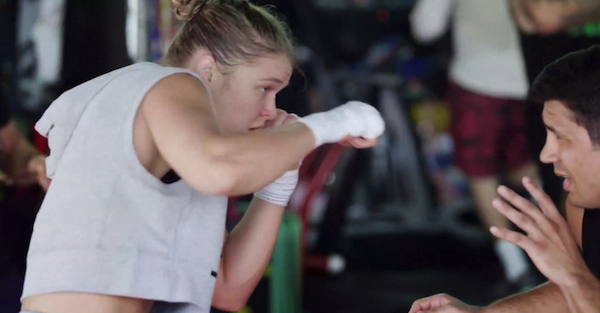 Gif screenshot
Ronda Rousey will return to the Octagon at UFC 207 against Amanda Nunes for the bantamweight title after getting brutally knocked out by Holly Holm more than a year prior.
Rousey, a judo expert, got a bit cocky in her last few fights, standing and opting to trade hands on a more consistent basis. After taking a TKO victory over Bethe Correia, she was easily outmatched against Holm, leading to the headkick knockout. But Rousey has taken much of the year off, training, preparing and reportedly working on her standup game.
In a video preview by UFC, Rousey is shown mixing it up with a trainer. And there's one moment in particular that shows just how poor her technique is.
The overextending of her elbow and the flick of the wrist shows just how bad her standup game still is.
While Holm was an expert kickboxer, Nunes can stand and throw with the best of them as a brawler.
She likely won't tap Rousey out, but if the former bantamweight champion doesn't move away from Nunes' attacks and isn't able to control the fight early, this one could get ugly.
Rousey will battle Nunes on Friday, December 30 at UFC 207.