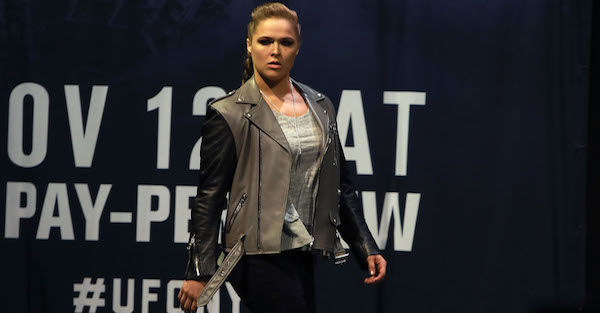 Michael Reaves/Getty Images
NEW YORK, NY - NOVEMBER 11: Ronda Rousey walks on stage for her face off with UFC Women's Bantamweight Champion Amanda Nunes after UFC 205 Weigh-ins in preparation for their UFC 207 fight that will take place on December 30, 2016 at Madison Square Garden on November 11, 2016 in New York City. (Photo by Michael Reaves/Getty Images)
Ronda Rousey's UFC career may very well be over after her UFC 207 loss to Amanda Nunes, but she's not backing down against even her biggest out-of-the-cage opposition.
While for the most part she's gone ghost mode on the MMA crowd, she's popped up in the unlikeliest of places — next to Standing Rock protesters.
Rousey has reportedly joined the Sioux tribe and others who are protesting the building of a $3.8 billion Dakota Access oil pipeline, which crosses over the Standing Rock reservation, per MMA Mania. According to the report, the Sioux are concerned the drinking water will become contaminated.
The Dakota Access oil pipeline controversy was thought to be over before President Donald Trump signed an executive order Tuesday morning to overturn the original decision inked by former President Barack Obama.
Rousey has worked with a variety of charities over her life, raising food for the needy through the Free Rice Campaign and assisting with the Didi Hirsch Mental Health Services foundation, which assists children, families and adults with mental illness and substance abuse. This will be arguably her biggest charitable stance though as she assists with facing off against the President of the United States.