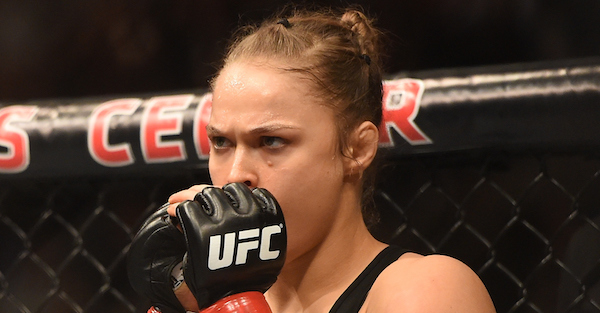 LOS ANGELES, CA - FEBRUARY 28: Ronda Rousey enters the Octagon in her UFC women's bantamweight championship bout against Cat Zingano during the UFC 184 event at Staples Center on February 28, 2015 in Los Angeles, California. (Photo by Harry How/Getty Images)
UFC president Dana White revealed Thursday on SportsCenter that the former women's champion, Ronda Rousey, had knee surgery Wednesday and her possible return won't be until at least December, but "probably" at the New Year's Show in January.
Related: Watch Ronda Rousey get knocked out cold by Holly Holm
Here's what he said, per Fox Sports:
"I'm hoping we're going to get Ronda back this year," White told "SportsCenter" on Thursday. "She actually, she just had surgery on her knee yesterday. Nothing serious, just get in there and scope it, clean it out a little bit."

"She feels great, her spirits are great, she's been training so if she fights, I'm hoping she fights in either December, if not she would probably fight at the like the New Year's show, beginning of the year or something."

"If she fights," is the key phrase there.

If she returns it will be after more than a year's layoff.

After falling to Holly Holm, Rousey has plenty of reasons to return (a rematch with Holm, a title fight with Miesha Tate or a superfight with Cyborg). But she does have a booming career in the movie industry and has become more than just a fighter — she's now a personality.

Maybe after the brutal knockout, it's time for Rousey to hang 'em up. Or maybe it's time for her to come back stronger than ever.